Temperature drops for Frostbite sailors
02 December 2019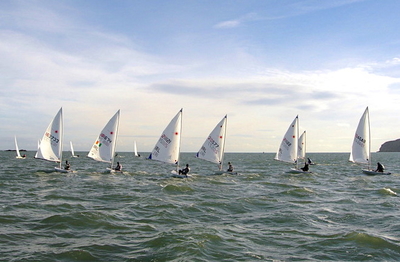 Twenty-two Lasers turned out for the fifth Sunday of the Frostbite series with temperatures beginning to justify the name of the event. Setting a course was challenging with the north easterly breeze swinging through an arc of about 30 degrees and wind speed dropping to a few knots. Just as the start time approached the wind suddenly obliged with about 12 knots and the first race got off to a clean start for a planned three laps of a windward leeward course. Mid-way through the race a shift of 120 degrees put an end to the beating and running. The positions on the course were well established and the fleet just went through the motions to complete the race with Sophie Kilmartin winning the 4.7s just ahead of Scott McNally, Peter Hassett won the radials and Ronan Wallace won a good tussle with Dave Quinn in the standard rigs.
The second race was more typical fare with the wind remaining steady throughout in both speed and direction. The incoming tide under the boats was a contributory factor in 4 boats being over at the start
with Darrach Dineen the only one returning to clear himself. I hope his GoPro recorded his restart and his impressive progress through the fleet to finish in fourth place. Dylan McEvoy won the radials and Sophie Kilmartin chalked up another win in the 4.7s. Ronan Wallace won the standards again and leaves us wondering if it's better tactics, better boat speed or is he just lucky every time?
Registered in the Republic of Ireland. Registered No. 81187