HOPS very own 'Brass Monkey' event
02 December 2019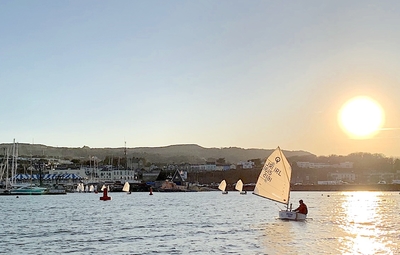 The Howth Optimist Performance Sailors (HOPS) Baily and Balscadden fleets came together for a one-day event on Sunday 1st December which marked the end of the HOPS Autumn-Winter 2019 training series.
The twenty sailors had the benefit of an excellent briefing from OOD Niall Gallagher, with hot chocolate to warm them up before they launched (thank you to our friendly chef for his help!)
The sailors enjoyed three back-to-back races in light airs, and with strong tides. They demonstrated how much they've learnt during the series, and what great fun they've had as friends.
There was fun for all when they came ashore, with hot food, selection boxes and a festive party in HYC's dining room, many thanks to Mandy Kelly.
Well done and thank you to all the parent volunteers and to sailors, it was a fabulous event. Special thanks to Alex Walsh for coordinating, and to Andy Cronin for providing the Committee boat.
Winners -
Baily HOPS fleet -
1st Des Turvey
2nd Caoilinn McDonnell
3rd Cillian Twomey
Balscadden HOPS fleet -
1st Conor Cronin
2nd Sarah Scott
3rd Harry Dunne
Registered in the Republic of Ireland. Registered No. 81187