Sunday morning Frostbite sailors enjoy a fresh Nor' Easter
18 November 2019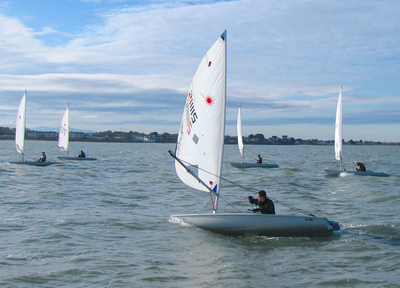 Laser sailors across all three rigs got prepared for week 3 in what started out an overcast cold morning (almost) worthy of the series title 'Frostbites'. Some were early birds to the dinghy park, tweaking this and changing that in a gentle North Easterly breeze. Others (and there was interesting locker room banter on this!) have rigging timing down to a fine art: 10 mins from arrival to on the water!
Whatever the preparation routines, a really good fleet of 24 boats were in good time for the first race which was raced in champagne conditions - wind building to 12-14 knots, sunshine and tricky wave conditions generated from wind-against-tide. Owing to the strong flood tide, the ever super-efficient Race Committee led by Harry Gallagher decided to deploy the U-flag at the start. Mind you all bar one (and there is video footage on WhatsApp!…) started the windward-leeward race 1 cleanly. Ronan Wallace maintained a very consistent winning form claiming the race followed by Conor Murphy and Dan O'Connell in third. In the Radial fleet, Peter Hassett maintained a dominant form, winning the race followed by Peter Killmartin and Dylan McEvoy (top pic) in third spot. Sophie Killmartin, daughter of Peter, won the 4.7 race with Scott McNally in second. Race 2 was sailed in similar conditions to race 1 with a little more breeze and where upwind windshifts in an easing tide were important. Ronan Wallace again won the second race but this time Darragh Kelleher in second and local guru David Quinn in third.
In the Radial fleet, there was a repeat of the Race 1 finishing order mind you with Dylan McEvoy proving he has serious speed in the surfing conditions off-wind, getting past Peter Hassett on one of the downwind legs. In the 4.7 fleet, Sophie Killmartin maintained an excellent record (3 wins in the past 4 races) with Scott McNally fighting hard to get second place.
See Darach Dineen's 360 degree video below:
Registered in the Republic of Ireland. Registered No. 81187