Staying 'in favour' with the Laser Frostbites race committee
10 November 2019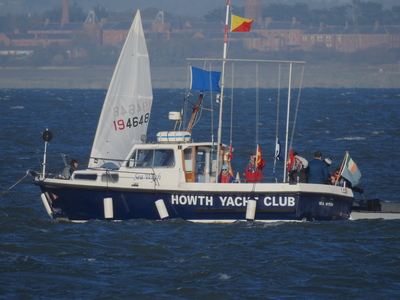 The second day of the Frostbite Laser Winter Series presented its first challenge in the form of a battery problem on Sea Wych, the committee boat for the series. For a brief period, Plan B was to revert to using one of the club launches which would have exposed the race committee to the elements of wind and wave as well as depriving them of crucial tea and coffee making facilities. Determination to avoid these adverse working conditions quickly produced a spare battery and Darragh Kelleher came to the rescue with a set of jump leads. He can be assured that any marginal line call involving his boat will more than likely be judged in his favour for the rest of the series!
The second challenge of the day was for Harry Gallagher in his role as RO to decide on a wind direction for racing. First, it was easterly, then southerly, then oscillating back and forth between north east and east. Our Dun Laoghaire visitors looked perfectly at ease, taking all this in their stride! After re-positioning the committee boat, racing started on schedule with 27 Lasers managing a clean start first time. With a windspeed of around 6–8 kts, a strong cross tide and fluctuating wind, we wondered whether this would produce any surprises in the results. However, at the top end it was the usual suspects who managed three laps of a windward leeward course to take the top spots. Ronan Wallace came in first, Dan O'Connell second and Darragh Sheridan in third. Darragh Kelleher who usually features at the top end of the results advised the author he had been in second place but hit the windward mark with the ensuing turns relegating him to eight place.
There may also be a protest in this race which could be interesting as the 'witness' is a 360-degree camera attached to the boom of the protesting boat.
The scheduled second race was abandoned before the start as the wind was dying and a number of big wind shifts made it impossible to lay a course or a line that would provide a proper race. Racing continues next Sunday...
Registered in the Republic of Ireland. Registered No. 81187