Brian Lennon's Cruise to Scilly
22 October 2019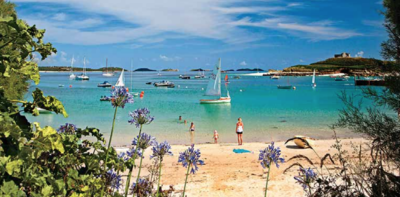 Brian Lennon from Skerries Sailing Club gave a very animated and fascinating presentation to the Cruising Group on Monday night 21st October 2019. His incredible voyage covered sailing his Moody 29 to the Isles of Scilly, the islands history and culture, the many mishaps and adventures on route. It also covered his stop at St. Ives and Padstow in Cornwell as well as in Dale (in Milford Haven in Wales) on his return. Many thanks to Brian.
The presentation consisted of photographs with history culture animations/ drone videos of each harbour visited/photographs of places /famous bars on route/ropes around his propeller etc.He talked his way through it without any text prompts.he listed and showed the group the cruising guide and websites that he used on route.
The Cruising Group has been very successful in attracting new members this year and the dedicated webpages gives the contact email and phone number as well as news updates and members' cruising logs. It managed to add 20 new members during 2019.
See page here
Photo below shows Brian Lennon being presented with a bottle of red wine by Willie Kearney- Captain of the Cruising Group.
Registered in the Republic of Ireland. Registered No. 81187