'Trick or Treat' takes Autumn League goodies
21 October 2019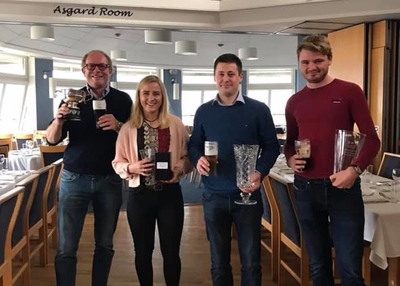 The final day of the Beshoff Motors sponsored Autumn League brought the series to a close and saw the victors crowned. With all seven of the scheduled races sailed prior to the day, an unusual achievement for a late season event, Day 6 looked set for a final showdown in some of the Classes. In others the winners were already known and could go afloat with the comfort of knowing that their lead was unassailable.
The start time was deferred to allow the sailors watch the Rugby World Cup quarter-finals and, while Ireland's chances faded in Tokyo, the wind strengthened. By the full-time whistle, a cold northerly had built an angry looking sea and it was raining heavily with a volatile forecast. When the N over A was displayed at the Clubhouse, even those with aspirations of a good final race bringing them up the results table were muted about their disappointment at not going afloat to get cold and wet as they returned to the comfort of the warm bar to resume their analysis of the quarter final.
At the well-attended prizegiving, Commodore Ian Byrne thanked the competitors, the race management and particularly the sponsors, Beshoff Motors, for making the 2019 Autumn League a resounding success before Jeremy Beshoff distributed the prizes. See www.HYC.ie\results\ for the full results.
Trick or Treat, the Puppeteer 22 of Alan Pearson and Alan Blay, was crowned the overall winner of the event and thereby retained their 2018 title, a noteworthy achievement for a boat racing in the Class with the biggest entry. In seven races they were only once outside the top two places despite the variety of conditions experienced.
The winner of the team prize was the 'Harlequin Bites Isobel' combo composed of a Howth 17 (Isobel – B&C Turvey), Puppeteer 22 Harlequin (D. Clarke) and Cruiser 4 Bite the Bullet (C. Bermingham). Their individual consistency within their respective Classes left their opposing teams struggling in their collective wakes.
The conclusion of the Autumnn League leaves only the long running HYC Brass Monkeys keelboat series – first race Nov 3rd - to complete before 2019 is put to bed and the new one arrives.
The 2020 keelboat season at Howth YC will kick off with the Spring Warmers in April and then lead on quickly to the WAVE Regatta over the weekend of May 29th – 31st. WAVE promises to build on the fantastic success of the 2018 event and plans are already well advanced for what promises to be the 'must do' regatta of the 2020 season. More news to follow on this.
Registered in the Republic of Ireland. Registered No. 81187