Winner's Enclosure Starts to fill at Howth's Autumn League
13 October 2019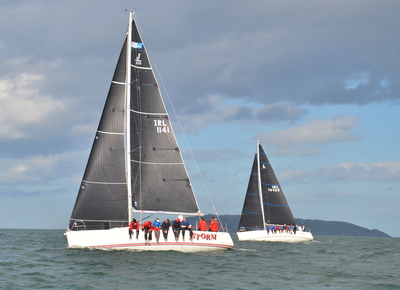 Day 5 of the Beshoff Motors sponsored Autumn League at Howth YC saw races six and seven completed and, with a race still to go, some of the Class leaders securing their passes to the Winner's Enclosure. The two Windward Leeward races were sailed in pet conditions with the sun beaming down and a mild south westerly breeze blowing that challenged the sailors to anticipate where it might next come from rather than their stamina.
Classes where the podium top spot is already secured include Class 4 - Tiger on IRC and Raging Bull on ECHO, Class 5 – Demelza on IRC and Voyager on ECHO, Howth 17s - Rita on scratch and Zaida on handicap, Squibs - O'Leary on scratch, J80s - Jammy for both scratch and handicap and the Puppeteers with Trick or Treat having secured the series win on scratch.
Day 6 will feature a single race to determine the final placings and bring the sailing summer of 2019 to a conclusion. Plenty of excitement to go still.
In the Howth 17s, Zaida (T Houlihan) added another two wins on handicap while Rita (Lynch / Curley) did likewise on scratch to consolidate their leads in both divisions. Absolutely Fabulous (M Flaherty) lived up to its name with two firsts on handicap in the Squibs and Fantome (R McDonnell) and O'Leary (S Sheahan) took a win each in the scratch fleet, moving Fantome up to second overall behind O'Leary.
In the Puppeteer 22s, Gold Dust (Walls / Browne) took their first win in Race 6 but it was Trick or Treat (Pearson / Blay) back on top in Race 7 to ensure an overall victory. On handicap, Odyssey (P&R Byrne) has found its groove and added a pair of wins to its earlier success but Flycatcher remains in the lead with a comfortable but not invincible margin over their challengers.
Jammy (D O'Grady) dominates the J80 Class on both scratch and handicap, winning both races in both categories on the day and thereby securing overall success in both series. Red Cloud (N. Reilly) holds second overall from Jeannie (R Dix) on both scratch and handicap.
In the White Sails, Bite the Bullet (C. Bermingham) took first on IRC in both races of Class 4 to move up to second overall, behind Tiger (S. Harris), who has already secured the series win. On ECHO, Spellbound (Burrows / Skeffington) won race 6 whilst Soufriere (S. O'Flaherty) added a win in Race 7 to its unchallenged lead in the 'most elegant boat of the series' award - if there was one. The consistency of Raging Bull (M & S Davis) sees them far enough ahead on the ECHO points table to be uncatchable.
In Class 5, Demelza (Laudan / Ennis) took another two wins to give them the IRC victory in the series and added an ECHO first in Race 6 to their trove while C'Est La Vie ((Flannelly / Spain / Staines) took race 7. White Sails stalwart Voyager (J. Carton) has sailed a consistent series to ensure that the trophy winner for the 2019 series is already determined.
In the Cruiser spinnaker classes, the J109s returned from their visit to Dun Laoghaire and Storm (P. Kelly) and Outrajeous (Colwell / Murphy) got back to battling for the lead of Class 1, each taking a race win on IRC and ECHO to leave Storm ahead of Outrajeous in both divisions, by two points on IRC and one on ECHO.
In Class 3 IRC a three-way battle is underway between Alliance II (V Gaffney), Insider (S&D Mullaney) and Viking (Patterson / Darmody), currently lying in that order with three points spanning them. Insider took race 6 while Animal (G. O'Sullivan) won race 7 with Viking's DSQ result providing a setback to its campaign for an overall IRC win. On ECHO, the wins on the day were taken by Insider and Animal but Viking retains the overall lead.
The twelve boat Class 2 fleet continues to feature two mini competitions. Half Tonners are dominating on IRC with the Checkmates of Nigel Biggs (XVIII) and Dave Cullen (XV) never far apart on the results sheets, each taking a win on Day 5 to leave XVIII with a two point lead over XV and both comfortably clear of The Big Picture (M&R Evans) and Harmony (J. Swan). The X302s are hogging the top spots on ECHO but the lighter conditions of Day 5 allowed the Half Tonner contingent some solace with Checkmates XVIII and XV each getting a win. However the ECHO leaderboard shows the X302s of Dux (A. Gore Grimes) ahead of No Excuse (Wormald / Walsh / O'Neill) with Maximus (P. Kyne) in third.
https://hyc.ie/gallery/albums/267-beshoff-motors-autumn-league
Registered in the Republic of Ireland. Registered No. 81187