Autumn bears its teeth with challenging conditions
07 October 2019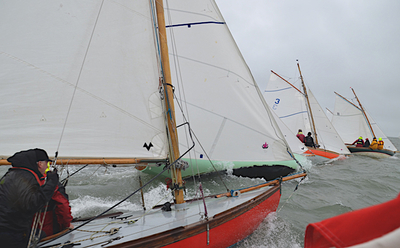 A week of media-fed anticipation of the non-arrival, at least in the Dublin region, of Storm Lorenzo gave no indication that the weather system on Saturday afternoon, not even worthy of a name, would provide Day 4 of the Beshoff Motors sponsored Howth YC Autumn League with demanding sailing conditions and lots of excitement, as well as generating a modest windfall for the sailmakers, chandlers and riggers in advance of their Winter wind-downs.
The murky overcast conditions as the fleets headed out to race were forecast to precede an imminently increasing south-easterly and heavy rain and both arrived right on schedule. The wind speed was hitting 20 knots on the two race areas by 2pm when the first warning signals were made and, as the afternoon went on, 25 knot readings became the norm. A single 'round the cans' race was the Day 4 offering, providing some comfort to those who like to keep gybing to a minimum once the white horses come out to play.
In Class 2, the stronger wind and accompanying easterly swell presented a challenge to the Half Tonners that have dominated the results to date. In the end the X302s took three of the top four places, Dux (A Gore Grimes) scoring a 55 second win over Checkmate XV (D Cullen) with Xebec (Bourke/McGirr/Ball) and Maximus (P Kyne) next in line. However the Half Tonners continue to top the IRC leader board and Checkmate XVIII (N Biggs) retains first overall with Checkmate XV in second place. The three X302s succeeded in bagging all the podium places on ECHO in the order Xebec, Dux and Maximus but Maximus retains the overall lead.
The conflict with the J109 Nationals took 3 of the 5 boat entry for Class 1 away to Dublin Bay for the weekend, leaving Rockabill 6 (P. O'Higgins) and Jeneral Lee (C Kavanagh) to share the first places for IRC and ECHO respectively. Rockabill 6 now holds first place on both IRC and ECHO but by only a single point on IRC from Outrajeous (Colwell / Murphy) and Storm (P Kelly), who are tied for second place.
The battle for Class 3 has settled down into a contest between Alliance II (V Gaffney) and Viking (Patterson / Darmody), who have divided the last four race wins between them. The wind and sea conditions for Race 5 favoured Viking but Alliance II's second place kept them in first overall by just one point. Viking also took first on ECHO from Animal (G O'Sullivan), increasing their margin in the overall standings on Alliance II.
In the J80s, the crew of the newly crowned National Champion Jammy (D O'Grady) showed their mastery of the conditions with a convincing win over Jeannie (R Dix) and Red Cloud (N Reilly), the same order that the boats hold in the overall scratch results. The three of them maintained that sequence on the day's handicap results but Jammy's win moves them to first place overall, just ahead of Red Cloud.
In the Squib series the Scratch results are being dominated by Slipstream (R Marshall) and O'Leary (S. Sheahan), who have shared the race wins. Slipstream took the gun in Race 5 but O'Leary took second and holds the overall lead by a point. Slipstream did enough to also take first on handicap with Tais (E. Mulvihill) second but Tears in Heaven (D Bothwell) continues to lead the series.
The Howth 17s, with their deep cockpits and low freeboard, found the conditions particularly difficult but Deilginis (Massey / Toomey / Kenny) secured a 90 second win over Oona (P Courtney) to move up to third overall and within challenging distance of second placed Isobel (B&C Turvey) and series leader Rita (Lynch / Curley). On handicap, Zaida (T Houlihan) made it 5 wins in a row and enjoys a comfortable series lead over joint second placed Sheila (Mulligan / Johnston) and Bobolink (Doyle/Finnegan/Walsh).
In the Puppeteer 22s, Harlequin (D Clarke) bagged a four minute win from Trick or Treat (Blay / Pearson). A redress hearing later saw Gold Dust (Walls / Browne) awarded a share in second place for going to the assistance of Yellow Peril (Murphy / Costello). Yellow Peril had rolled to windward on a run while in the lead, gybed and was pinned down with the spinnaker and mast head submerged and Gold Dust, following down the leg, dropped their sails and stood by to assist until the release of the spinnaker halyard allowed the keel return the capsized boat to its designed orientation. Trick or Treat now leads overall from Yellow Peril on scratch while, on handicap Flycatcher (M Dunne) took its third win of the series to lead Ghosty Ned (D Harkin) by three points.
In White Sails Class 4, Tiger (S Harris) enjoyed wins on both IRC and ECHO and has a comfortable overall lead on IRC from Toughnut, who also finished second on the day. On ECHO, WIndshift (Boylan / Collins) finished second to Tiger but Raging Bull (M&S Davis) retain their overall lead with Changeling (K Jameson) in second place.
In Class 5, Demelza (Laudan / Ennis) maintained their dominance with another first place on IRC while Voyager (J Carton) was runner-up, leaving Demelza as overall leader and Joker's Wild (G Knaggs) in second. On ECHO, Bandersnatch (K. O'Grady) took first from with Cest La Vie (Flannelly / Spain / Staines) but Blues Xtra (M Carroll), another member of the X302 clan, continues to lead overall.
Two Windward Leewards are planned for Day 5 and, with only a point or two separating the top placed boats in many of the Classes, keen competition is assured.
Top photo of the Howth 17 start line from Conor Lindsay
Registered in the Republic of Ireland. Registered No. 81187