Autumn League racing lifts post rugby gloom
29 September 2019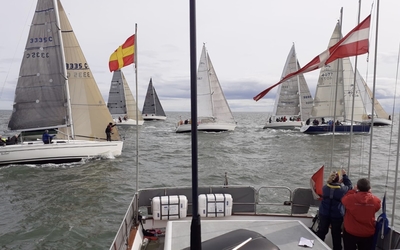 The day may not have started well for the rugby followers hoping for good things from Ireland but Day 3 of the Beshoff Motors sponsored Autumn League racing at Howth YC helped lift their gloom by providing another great day of spectacular racing conditions afloat and something to talk about afterwards apart from what might have been in Japan.
It was back to 'round the cans' racing for Race 4 after the two Windward Leewards on Day 2. The wind for Race 4 was a pleasantly taxing 14 to 18 knots westerly and a strongly ebbing tide put a premium on skippers putting their boat in the best place to maximise advantage (or minimise the disadvantage) of the fast-flowing water. The wind was blowing from 260 degrees as the first Classes started but a 20 degree left swing while most were on their first windward leg rewarded those with the foresight, or good luck, to maximise their advantage from the change in direction.
The completion of Race 4 brought the series to its half-way point and also brought the first discard of the series into play. Those interested in guessing the overall results now have a better insight into whether the boats that have performed well over the season are maintaining that standard or are beginning to tire as the winter break comes up on the horizon.
In Cruisers 1 IRC the first three places are filled by Outrajeous (Colwell / Murphy), Storm (P Kelly) and Rockabill 6 (P O'Higgins) and in Race 4 the boats finished in the same order. Outrajeous took first on ECHO in Race 4 with Indian (S Knowles) second, leaving Outrajeous sharing the overall lead with Rockabill 6 and Storm in third place.
Class 2 IRC continues to be Half Tonner heaven with the top five positions filled by the breathed-on beauties from the past. The two Checkmates, (XVIII – N Biggs and XV – D Cullen) have dominated to date and it was no different yesterday with XVIII again taking the win from XV while The Big Picture ( M&R Evans) took third, leaving the Race 4 results mimicking the overall placings. On ECHO the X302s are enjoying a similar dominance to the Checkmate duo on the IRC side with Maximus ( P Kyne) getting the Race 4 win from No Excuse (Wormald / Walsh / O'Neill), the same positions as they now hold in the overall Series while Checkmate XVIII is only a point astern in third place.
Class 3 IRC sees Alliance II holding first overall by a narrow margin from two boats that are tied for second - Viking, an X302 that has been de-rated to compete in Class 3 rather than in Class 2 where its sister ships race, and Insider, a well sailed Sigma 33. Three quite different boats but enjoying close racing thanks to the ingenuity of the IRC rating system. In Race 4 Alliance II beat Viking to the gun with Insider in third and on ECHO Viking both leads overall and won Race 4 from Alliance II while Kahera (R Camier) took third place on the day.
The Non Spinnaker racing is just as close as that enjoyed by those who chose to complicate their sailing with the use of coloured sails. In Class 4 IRC Tiger (S Harris) leads overall from Toughnut (D Skehan) but Raging Bull (M&S Davis) took the honours in Race 4 with Tiger as runner-up and Encore (D Skehan) in third. Raging Bull leads overall on ECHO from Changeling (K Jameson) while Encore took first place on the day and Raging Bull got second. Class 5 IRC is undoubtedly the Demelza (Laudan / Ennis) show with them taking their third successive race win to lead overall from Joker's Wild (G Knaggs). On ECHO, Blues Xtra (M Carroll) holds first place with White Peril (D Greene) in second place overall, helped by their victory in Race 4. Tully Too (D Higgins) was runner-up in Race 4.
In the Puppeteer 22 fleet, Trick or Treat (Pearson / Blay) took first with Yellow Peril (Murphy / Costello) behind them in second and the two boats now share first overall in the Scratch series, tied on 4 points each and both counting two firsts and a second. On handicap, Flycatcher (M Dunne) holds the lead from Ghosty Ned (D Harkin) but it was Odyssey (P&R Byrne) that took the win in Race 4.
O'Leary (S Sheahan) is leading the Squib Class on scratch with Slipstream (R Marshall) in second, the same order that they finished Race 4 in. Simon has scored three wins out of four races but Rob Marshall was a 'DNC' in Race 1 and is keeping the pressure up with a first and two seconds in his three races to date. On handicap, Tears in Heaven leads Tais (E Mulvihill) in the series but Race 4 saw Absolutely Fabulous (Mary Faherty) getting first place with Lazy Liadh (N Monks) the runner-up.
Rita (Lynch/Curley) leads the Howth 17 Class on scratch with Isobel (B&C Turvey) second and Rita reinforced their lead with a Race 4 victory over Oona (P Courtney) while the always threatening Deilginis (Massey/Toomey/Kenny) took third. On handicap, Zaida (T Houlihan) took their third race win of the series to establish a convincing lead, discarding a second place. Silver Moon (S Morgan) took second place on the day but Sheila (Mulligan / Johnson) hold second overall.
Jammy (D O'Grady) leads the J80 Class on scratch with Jeannie (R Dix) and Red Cloud (N Reilly) sharing second place but in Race 4 Jabs (J O'Dowd), another Dun Laoghaire visitor to the Autumn League, beat Jammy by twenty one seconds after a race lasting nearly two hours. On handicap, Red Cloud leads Jammy by a single point overall but Jabs was the winner in Race 4, giving them the double of both scratch and handicap wins.
Registered in the Republic of Ireland. Registered No. 81187