AQUA Double Handed Race next weekend
04 August 2019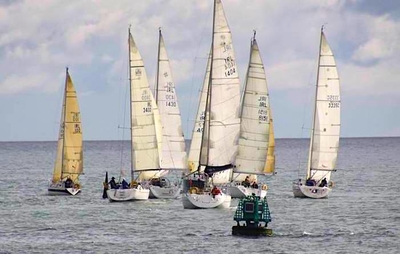 Aqua restaurant sponsored double-handed race will again take place next Saturday August 10th. With a very strong fleet of 65 boats in the double-handed section of the Fastnet race taking place right now, double-handed sailing is certainly becoming more popular year by year.
The course may use the Kish Lighthouse, Rockabill lighthouse and Lambay and will start and finish at Howth's East Pier. The race will be between 20 and 40 miles long weather dependent with a start time of 10am and hopeful finish time of mid-afternoon.
This is an excellent opportunity for racing skippers and crew to test and demonstrate their sailing skills in an event that challenges planning, tactics, strategy, coastal navigation, sail trim and all-round boat handling skills. Not just for the established and experienced race teams, but all sailors competing in the Aqua Double Handed Challenge discover that it is also a great way to learn about their boat and the value of being able to manage and race a keelboat 'short-handed'.
A fun race for all, both spinnaker class and white sail class, so even if you don't race regularly this is a race to take part in and enjoy. Get your entries in now!
Registered in the Republic of Ireland. Registered No. 81187