Howth boats reign supreme at the ICRAs
11 June 2019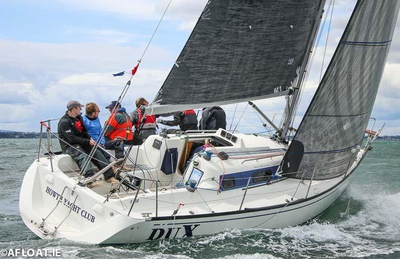 The National Championships were held in Dublin Bay last weekend and Howth boats reigned supreme, taking podium finishes in every division entered and Anthony Gore-Grimes' DUX, emerging as overall national champion, having won the 22 boat Division 3 with a 3 point lead over the 2018 national champion, Rory Fekkes.
The Howth half-tonners were unbeatable in Division 2 and a closely-fought series concluded with Darren and Michael Wright's new steed Mata taking first place. David Cullen rounded off the podium in third place in Checkmate XV .
Not to be outdone the recently crowned winner of the Lambay races Demelza discarded a first to be the overall winner in Division 5. Division 1 was a large fleet mostly consisting of J109s and whilst John Maybury's Joker II retained his Division 1 national title for a fourth year in a row. Howth boats came in 2nd and 3rd with the Kelly's Storm and John Murphy's and Richard Colwell's OutraJeous . A great result for all Howth boats and good omen for the upcoming Sovereigns Cup in Kinsale and Volvo Dun Laoghaire Regatta.
Photo reproduced with the kind permission of Afloat.ie
Registered in the Republic of Ireland. Registered No. 81187