A new 'Course Assistant' for testing
21 May 2019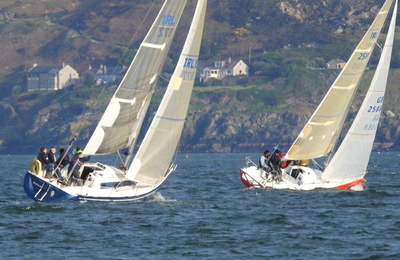 'HYC Wednesday' is a new free app that the club is testing and is designed to help get the correct course information at the start of a race on your Android smartphone. We are currently asking any members with Android phones to test this developmental proposal and that it could then be used to display club racing and open event courses without the need for checking and triple checking the laminated course card. To get the app, go to the Play Store and search for "HYC Wednesday",
open the app and grant all permissions. This allows HYC Wednesday to show your current position relative to the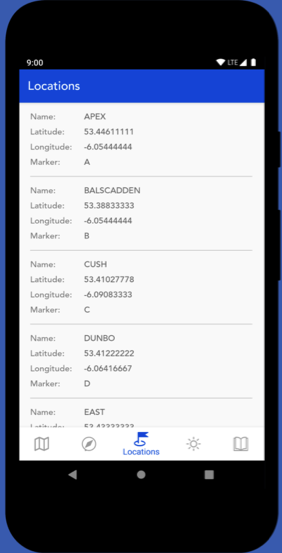 marks on the course as well as their distance and bearing. To use the app, look at the course code displayed on the committee boat at the start of the race, for example "011", and enter it in the box at the top of the screen. Tap the tick button on the number pad and the series of marks will show, for example, "Z W C P W C F". Note, don't tap the Show Course on Map button until you have tapped the tick on the number pad.
Important things to note:
Z and F do not have known positions so don't display in the app.
Tap on any mark displayed on the map to see its distance and bearing. To return to the course, tap the back arrow.
The five icons along the bottom are:
●
Map: the main page where course information is displayed.
●
Course: a list of all the current courses. Tap on any to update it with new information if necessary. New courses can also be added.
●
Locations: the Lat/Long coordinates of all the possible marks. Like courses, marks can be added and edited.
●
Weather: the current weather and wind in HYC.
●
Rules: the sailing instructions and HYC racing rules.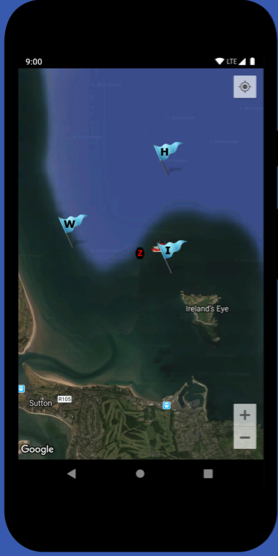 HYC Wednesday is currently in beta. We are actively soliciting feedback from members. If you have any problems or questions, please tap the message icon in the top right corner to contact us.
HYC Wednesday currently only displays race information for Wednesday night racing and only works on Android phones. Development is underway on an iPhone version as well as apps to display course information for HYC's other series.
Note that testing of the app is at the user's own risk and should not be used as a replacement for the current course card, nor does it form part of event sailing instructions. Additional features may be interpreted as 'outside information' and should be treated as such and with caution.
Registered in the Republic of Ireland. Registered No. 81187