All set for the 2019 Lambay Races
22 May 2019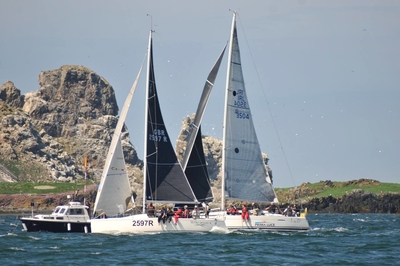 Following on from the immense success of the Wave Regatta last year, HYC's Lambay Regatta weekend returns to its more traditional format on this coming June Bank Holiday weekend. The return to a historical format on the June bank holiday weekend includes the traditional Lambay Race on Saturday 1st June, followed by a fun race around Ireland's Eye and an entertaining 'fun family day' on Sunday 2nd.
Sponsored this year by Provident, the Lambay Races on Saturday provides a unique opportunity and challenge for racing teams to compete in what will be the final competitive race before the ICRA Nationals the following weekend in Dublin bay, hosted by the Royal St George Yacht Club. It will be an excellent opportunity for boats to hone their race tactics and crew work in a number of scenarios including coastal navigation, tidal considerations, shoreline rock-hopping and sailing in a variety of weather conditions on the different points of the course.
The club is encouraging everyone to get afloat that weekend - racing or not, there will be something for members and visitors of all ages to enjoy. A great entertainment and
hospitality program
has been arranged that will include music and bbq after racing on Saturday and a lively atmosphere up to the prizegiving. Later that evening the club will host the
Lambay Dinner
, followed by more live music and dance into the small hours.
Sunday's fun race around Ireland's Eye and family day ashore will see the return of the Dunk Tank, along with 47" Obstacle course bouncy castle, cyclone machine, foot pool and more. All members are welcome to invite family and friends to the club to take part in the fun and activities. Entry to the island race is free of charge and open to all members, and we encourage everyone to join us for the fun atmosphere on and off the water.
Looking forward to seeing you all there.
Gary Cullen
Event Organiser
Registered in the Republic of Ireland. Registered No. 81187