IODAI Trials - A storming success for HYC Optimist fleet
13 May 2019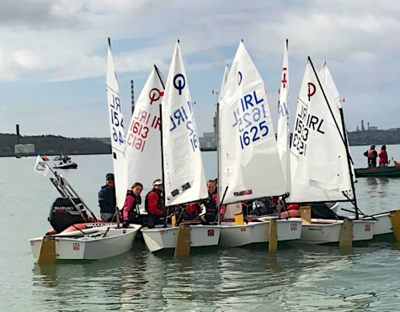 Our qualifying sailors and their support entourage headed to Royal Cork Yacht Club to compete in a series of 12 proposed races run over 4 days, with the ultimate prize qualifying for an IODAI team, Worlds, European and two international development teams.
The qualifying sailors for the series were Rocco Wright, Luke Turvey, Johnny Flynn, Sorcha Gannon O'Connor, Evan Darby, Fiachra Farrelly, Hugo Crawford, Cillian Twomey, Des Turvey, Charlie Keating, Oisin Kelly and Ciara McMahon. MYC members, who are also members of HYC, William Walsh, Joanna Berry, James Anglim and Ciara Paul also competed.
After day one with 3 races completed Rocco produced some excellent, consistent results to position himself 2nd overall, close on his tail were Luke and Johnny, while Hugo, Cillian, Sorcha and Evan produced their best competitive performances to date! The remaining team of HYC sailors performed admirably, positioning themselves in good stead to qualifying for their respective teams.
Storm Hannah was on its way and due for landfall on the Friday so the decision to race early before the storm hit our shores was fortuitous. This was Luke Turvey's day to shine and he produced his best results of the series that would prove critical over the coming days. Again, in windy conditions all our team shone brightly. Saturday was "blown- out"with the frustration of waiting around all day until a final call was made to cancel at 2pm.
Sunday the fleet had an early launch time of 9am. With just 6 races completed, there was hope for another 4 races on the final day, so there was everything to play for! Alas, with shifting winds of 5 knots, the sailors waited until 12.30pm before their first race began. A second race began immediately afterwards to complete the series with just 8 races.
And then came the storming results that saw HYC sailors secure places on all 4 teams...
Worlds team- Rocco Wright & Luke Turvey
Europeans team- Johnny Flynn
IDT 1(Belgium)- Sorcha Gannon O'Connor
IDT 2(France)- Evan Darby, Hugo Crawford, William Walsh & Cillian Twomey
Under 12s (UK nationals)- Des Turvey, Ciara McMahon & Oisin Kelly
This series consisted of 60 of the best junior sailors in Ireland. Considering the inclement weather on days one and two, it's interesting to note that the total number of RET (retired) was just "4" for ALL the races and not a single DNC (Did Not Compete) was logged. That's an incredible statistic and highlights the quality of the participants at this event.
To have qualified and competed at this level is a great achievement for all. Congratulations and well done to all. Everyone at HYC are very proud of your achievements.
Registered in the Republic of Ireland. Registered No. 81187