SB20 Eastern Championships Season Opener to be hotly contested
28 April 2019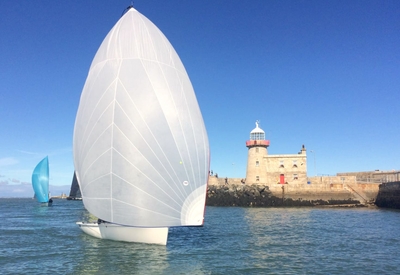 The Irish SB20 fleet enjoyed a record year in 2018 seeing an incredibly strong showing of Irish talent at the European Championships on home waters last August, the height of performance being reached by Michael O'Connor's Sin Bin claiming the bronze medal. And there is no sign of any let up in this formidable sportsboat class.
The first event of a packed 2019 Calendar including World Championships in Hyeres this autumn, will be hosted by Howth Yacht Club over the weekend of 4th and 5th May. The growing J80 fleet will also race their East Coast Championship to be held in conjunction with the SB20s over the same course. The combination of both fleets out on the water will provide a fine spectacle of Irish sailing talent including a host of former Olympians and winners of the ISA All Ireland Championships.
There are a number of strong additions to the fleet including top Laser Helm Philip Doran and their mettle will be tested against some old hands including Team Binn Eadair with Cillian Dickson at the helm supported by expert crew Sam O'Byrne and tactician Gordon Stirling, Michael "I'm retired from SB20 sailing" O'Connor who will be guest helming the Dowling's "Bad" hailing from the RIYC. Consistent top performers in attendance include class President Colin Galavan and team Venuesworld of Ger Demspey and Chris Nolan. Team Provident CRM are also hoping to show strongly with a new line up for the 2019 season including John Malone, Graham Curran and Diana Kissane.
Bespoke MacWilliam Holdalls and CRM Provident sponsored prizes will be awarded for first in gold and silver fleets for the SB20s and the winning boat in the J80s, sponsored by UK Sailmakers. There will also be individual race winner prizes awarded to the SB20 fleet, kindly sponsored by Provident CRM.
The SB20 fleet are regulars in Howth and have experienced great sailing conditions North West of Ireland's Eye over their last few visits and we hope that the Eastern's will be blessed once more with fine racing weather. Results and photos will be published on the HYC social media each day. Notice of Race and Sailing Instructions are available here.
Registered in the Republic of Ireland. Registered No. 81187