Icebreaker Series starts in brilliant sunshine and lots of wind
26 March 2019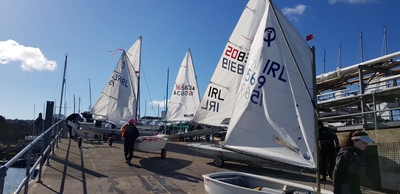 The Icebreakers Spring series for dinghies began on Sunday afternoon at HYC in bright clear conditions. There was definitely a sense of spring in the air and a great buzz about the club as the sailors got rigged and ready for racing. It was great to see a big fleet of Lasers and Oppies with some 420s, Fevas and an RS400 thrown in for good measure.
The fleet heading out the harbour were greeted by a 15 knot North Westerly breeze and wind against tide to keep things interesting. Pat McCaughey and Harry Gallagher got racing underway as the wind started to pipe up with gusts of 18-20 knots.
As the first race finished up, the wind was now a steady 20 knots with gusts up to 25 and there were a few casualties of the upside down variety but overall, everyone managed really well considering the mix of skills and considering this was the first outing of the season for some sailors.
The laser sailors, battle hardened after the recent frostbites, revelled in the conditions, with Ronan Wallace edging out a win over close rival Dave Quinn in second. Thomas O'Neill did a great job in keeping his 4.7 upright in the gusty weather to take a win in the sundry slow division.
Hats off to the oppies who toughened it out and got around the course unscathed. James Anglim from MYC led the oppie fleet at the finish but unluckily for him an OCS meant that Fiachra Farrelly took the win with William Walsh in second and Joanna Berry in 3rd.
All the sailors breathed a collective sigh of relief when Pat and Harry decided to quit while they were ahead and made the very good call to cancel the second race. Matthew Cotter and his rescue team did a great job of rounding up the fleet and making sure everyone got ashore in one piece.
Big shout out to Kate and Sara for getting everyone registered, Pat, Harry, Tom and Sorcha for race duties on Sea Wych and Dave and Eamonn for keeping the slip moving smoothly.
What a great way to start the series. Roll on next Sunday for the next instalment!
Cormac Farrelly – Event Organiser
Registered in the Republic of Ireland. Registered No. 81187