40th Anniversary of Fastnet Storm reunites Irish teams
13 March 2019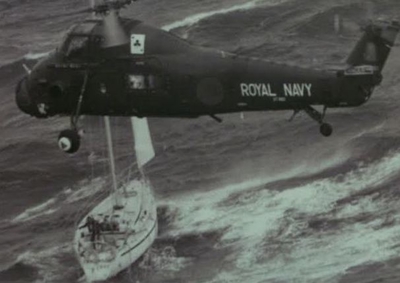 This year is the 40th anniversary of the 1979 Fastnet Race disaster and a special commemorative event is to be held in Howth Yacht Club on the 11th of October. The anniversary lunch will reunite the many Irish sailors who took part in the race, many of whom still have frightening memories of the Force 10 storm that claimed 15 lives, sinking 5 yachts and saw 136 sailors rescued by the emergency services.
Eighteen Irish yachts took part in the race – seven from Cork, ten from Dublin and one from Northern Ireland and invitations have been extended to all of their owners, skippers and crew to attend what is likely to be an emotional reunion for all. The occasion will also remember many of the sailors who have passed away since then, not unusual given the passage of 4 decades and the broad age-profile of the offshore sailing community both then and now.
The Fastnet '79 Irish contingent was made up of the following yachts:
Admiral's Cup

Golden Apple of the Sun

Hugh Coveney

RCYC

Regardless

Ken Rohan

RIYC

Inishanier

Bramwell/ Buchanan

RUYC

Wild Goose

(Chartered)

RCYC

Silver Apple of the Moon

(Chartered)

RCYC

Class 1

Red Rock III

Otto Glazer

HYC

Moonduster

Denis Doyle

RCYC

Class 2

Golden Leigh

Leslie Kertesz

NYC

Irish Mist III

Archie O'Leary

RCYC

Class 3

Silver Apple

Philip Watson

HYC

Finndabar of Howth

Patrick Jameson

HYC

Sundowner

Barry O'Donnell

RIYC

Tom O'Shanter

Jim Butler

RCYC

Live Wire

Derry O'Brien

RStGYC

Class 4

Black Arrow

RAF (Donal McClement)

Class 5

Korsar

Robert Mollard

RStGYC

Silver Foam

Guss Mehigan

RIYC

Rapparee

Brian Kelly

HYC
The Fastnet '79 Irish Reunion on October 11th will be run in conjunction with the RNLI, whose lifeboats from Scilly, Baltimore, Ballycotton, Courtmacsherry, Dunmore East and Penlee formed a vital part of the largest ever peace-time maritime rescue operation that included the Irish Naval Service, the Royal Navy, Dutch Navy, US Navy, HM Coastguard and involved more than 4000 people. The lifeboat crews spent 75 hours at sea in 60-knot winds and huge seas.
Enquiries about the event should be made to Kevin Burke c/o Howth Yacht Club
Registered in the Republic of Ireland. Registered No. 81187