Clear winners at Frostbites in foggy conditions
25 February 2019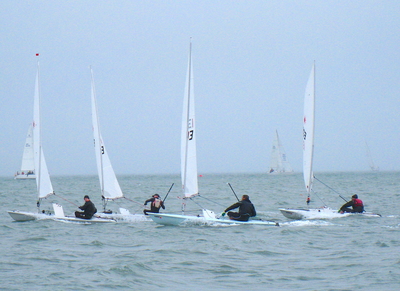 For the first time during the series, the 18 boat turnout for the penultimate race of HYC's Laser Frostbite event found themselves having to contend with fog. Adding to the challenge conditions were a strong tide and wind ranging in direction from 140 to 170 and from the 4 knots the fleet found in the Sound when they left the Harbour to a brisk 21 knots in the occasional gusts.
In both races Darragh Kelleher and Ronan Wallace battled it out at the front of the fleet all the way around the lap, sausage, lap course. In race 1 they swapped the lead three times before Ronan took the gun. In the second, Ronan grabbed the lead early on and used his off-wind speed advantage to build a comfortable lead before again crossing first. Behind them there was close racing all the way through the fleet.. Conor Murphy took third place from Stephen Quinn in race 1. In race 2, Stephen's individual recall damaged his chance of a repeat.and Mike Evans took third from Conor Murphy. Tom Fox took first place in the Radial fleet in both races.
Next Sunday sees the final two races being sailed, leading to the season climax, the Round the Island race, on Saturday, March 9th.
Registered in the Republic of Ireland. Registered No. 81187