Frostbite sailors pounded by big winds and icy seas
11 February 2019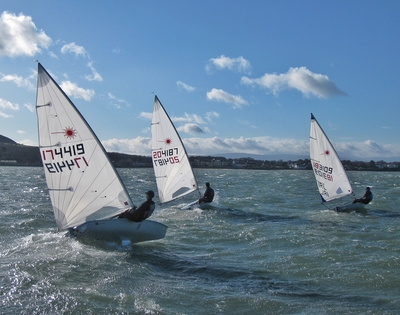 Two Laser Frostbite races were sailed yesterday in demanding conditions. We had westerly winds, against a flooding tide, which generated a small but steep chop. Absolutely brilliant for reaching, but somewhat tougher upwind! It was probably the fastest your correspondent has ever gone in a Laser. Winds were averaging 20 knots and gusting to 28.
First race sailed over over a lap, sausage, lap of a triangular coures with the run and the gybe marks being where most capsizes occurred. The race management team took pity on the fleet and changed to triangles without a run for the second race, and, in recognition of the number of competitors who were swimming rather than sailing during that race, the course was shortened after just two laps. The fleet was still left with a broad reach back to the sanctuary of the Harbour, which gave further opportunity for some more Sunday morning swimming but all survived and there were plenty of tall tails to be told in the Bar afterwards. Daragh Kelleher won both races in the Standard Rig, and Tom Fox showed some impressive speed to beat most of the standard rigs on his way to winning the radial fleet. Sophie Kilmartin continued her winning ways also with two wins in the 4.7 fleet.
The impressive speeds on the reaches were vouched for by the Sailracer GPS trackers fitted to the boats for the event, confirming that over 14 knots can readily be achieved in a Laser, albeit not a comfortable situation to be in with the gybe mark approaching fast.
Registered in the Republic of Ireland. Registered No. 81187