Awards acknowledge the best achievers of 2018
20 January 2019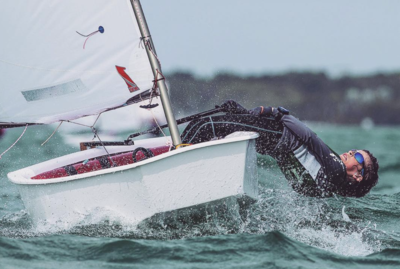 The annual Achievers Awards was held in the club on Saturday night in front of a large gathering of members, families and friends. Always a special occasion in the club, this year's event was no different and was efficiently hosted by Sam O'Byrne with all the prizes presented by Commodore Ian Byrne. Club members submit their nominations each year and the winners are selected by the Flag Officers following recommendation by the Sailing Committee. Sam's presentation and oration is repeated below for anyone that was not able to attend and includes mention of all nominees and the resulting winners in each category. (Top photo: Rocco Wright from Instagram/Zhik Australia)
Instructor of the Year
(Outstanding service to members during the course of the year)
Thanks for this from the club must go to Brian McDowell and Sara Lacy for selecting the instructors and overseeing the process, and to Brian for training them as well. Instructors are responsible for the next generation of the club, both in terms of their sailing ability and their contribution to the club. A junior sailor's opinion on their summer course and training has a significant impact on the future membership of the club as well as hopefully the achievers who will be attending this event in 10, 15 and 20 years' time.
The nominees this year for their outstanding service to the junior section were:
Medb Glackin
Megan Cahill
Andrew Coyle
Diarmuid Brodie
Max Kavanagh
Saoirse White
Rory McEvoy
Issy Delamer
Lara Jameson
Harry Cronin
Alex Shackleton
Lizzy McDowell
Philip McDowell
Fergus Flood
Tom Mulligan
Isabel Cahill
All were outstanding during the summer and it was extremely difficult to select a winner, as with all categories. However, it was decided that for his contribution to the young sailors, his good nature with the kids and how approachable the parents found him, this year's award goes to Diarmuid Brodie.
Volunteer of the Year:
(Selfless dedication to the club throughout the year)
A volunteer is defined as 'a person who freely offers to take part in an enterprise or undertake a task'. Last year was our 'year of the volunteer' but I think we all know that we are now a club with a much greater amount of volunteer work undertaken by members across the board. The club simply could not function without the work of these people and on most occasions, their work goes unnoticed due to the fact that these people give their time and effort selflessly and without the want or need for gratitude or praise.
Our 2018 nominees were as follows:
Kevin Monks – Great work over the last few years behind the scenes improving health and safety all around the club and also taking the club forward with a new emphasis on environment, which is a very important for the future.
Harry Gallagher – Top class race officer for multiple events, big and small, and has also been undertaking a complete re assessment of the courses we race around the cans all year. Without Harry we would not have club sailing instructions, course cards, race officers organised for events, these are just a few of the unseen jobs which Harry does to allow us all to enjoy our sport during the Summer months.
Berchmans Gannon – Berchmans organised a very successful commodores lunch this year which had many of our local TDs and County Councillors in attendance, to make sure our dredging project is kept front and centre in all their minds. Also involved in the social and entertainment organisation during the year.
Paddy Judge – Paddy is the general manager of the club as a volunteer and as anyone that spends time down the club can attest Paddy is all ways here making sure that everything is running smoothly! Paddy is the brains behind a huge amount of new ideas and improvements all around the club, which we are all benefiting from.
John Doran– For all of his work looking after our significant committee boat fleet during 2018. Including driving them and training in new drivers. This is a job that John has done for many years.
Paddy Cronin – one of the great-unrecognised volunteers. Paddy last year repaired all of the clubhouse windows that had rot in them and repainted them. Paddy also helped solve and repair a large leak in the roof into the boiler house and also takes down and puts up the East Pier Starter Hut each year. The willingness and good humour that these jobs got done typifies the volunteer spirit of HYC.
Robert Hayes – Robert has been working closely with Paddy Judge this year doing very detailed work on areas around the marina and electricity which will help us improve the running of the club and save us money on running the marina better.
Sarah Robertson – Sarah introduced the S.T.E.M program to the club last year which stands for (Science, Technology, Ecology and Maths). HYC opened its doors to the community and offered 150 National School kids a fun packed week. The format thought up by Sarah brought these children through 'stations' on Tide and Navigation; Mechanical Advantage, Wind and Wave and Ecology. Gerry Sargent and Scorie Walls helped explain to the children about Barry the fishes life which was described in detail by inter active demonstrations as to how much pollution by us poor Barry the fish has to endure.
Sarah's science background in teaching and love of sailing made her the perfect candidate to promote and encourage children to enjoy and respect the surroundings and continue to enjoy sailing with us in the future.
This year's award goes to Sarah Robertson.
Huge effort by Sarah but so very worth while and we will be running a similar programme this year which will be even bigger and better. I understand Sarah is looking for more participants to help out at the stations so talk to Gerry Sargent and Scorie Walls as to their experiences which hopefully will encourage you to take part in this years great initiative. It will take place from the 10-14th June.
Seaward Bell Trophy:
(Junior who excelled in events both home and abroad)
It's probably a very long time since as a club we have had such success in junior sailing. We have always had national championship winners, representative honours and, infrequently, we have had international honours. To have all of these in one year is something really special.
We have no doubt that each of the nominees in this category are only beginning and are likely to be nominated for these and greater awards for many years to come:
Luke Turvey – Luke started off 2018 with a huge result in Spain's Torrevieja Trophy coming 3rd in his age and finishing in the top 30 out of nearly 400 optimist sailors. Luke finished up the top ranked senior optimist sailor in the country this year, very impressive considering he was the top junior last year and is only in his first year of eligibility for the senior trophies.
Eve McMahon – Eve got two gold medals this year at the Warnemender Eurocup Regatta in Holland being first girl and first under-16 girl. She then topped that off with an under-17 Bronze medal in her Laser Radial at the Youth Worlds.
Jamie McMahon – Jamie had another great year in the Laser Radial winning the Connaught's and being on the podium in the youth nationals in a very competitive fleet only separated from the top spot by a couple of points.
Rocco Wright – Rocco won both the British and Irish Optimist Junior Nationals in 2018. He won the British Nationals with 7 straight bullets! He also qualified for the Irish Europeans team and last month in December signed off the year by finished 4th out of over 200 boats in the Orange Bowl International Youth Regatta in Miami.
Johnny Flynn – had a tight year battling it out at the front of the Irish Optimist fleet with Luke Turvey. He had a big win in the Ulster Championships by a 21 point winning margin and also won the fair sailing award in the Munsters, to top it off Johnny also Qualifed for the Irish Europeans team along with Rocco.
The club is delighted this year to award the Seaward Bell trophy, to Rocco Wright.
GM Award:
(Junior sailor who best represents and enhances the spirit of junior sailing)
This award is in recognition of hard work and attitude. The dedication that each of the nominees make to their sailing has been noticed by adults and juniors and is an excellent example to other juniors of how best to improve and, most importantly, that hard work pays off.
The nominees this year were:
Hannah, Sarah and Lucy Scott- for their enthusiasm and love of fun on the water, which apparently included going sailing on Ian Malcolms Howth 17, a daunting task for even the most experienced, it just made them want to do even more sailing.
Aoibhin Farrelly, when all else fails come up smiling : - Feva capsize, gear failure, and equipment loss during HYC Regatta - but she still loves it.
Lara Jameson, William Lacy, Holly Quinn – Junior assistants on the STEM Programme : giving up their free time to work with the primary school kids on an educational STEM week.
The club is delighted to award the GM Award, to The Scott Girls, Hannah, Sarah and Lucy.
Cliona Murphy Memorial Trophy:
(Spirit of Howth Yacht Club)
This award, similar to the Volunteer award, is what it means to be a "club person". The nominees in this category have given their time and dedication to a specific task or project of which the club is extremely proud.
The nominees were:
The Fun Friday Team – These were organised by a team made up of Mike Evans, Audrey Darby, Sarah Robertson, John Scott, Aisling Gannon, Stephen and Noelle Quinn. Fun Fridays were organised this year to encourage kids and parents to participate in sailing in a non competitive environment and above all have Fun. The Team brought enthusiasm, and the essence of fun at the club on a Friday evening where teens and under 12's were welcomed to an array of events from the very successful Pirate Outing which brought over 80 children and their parents to HYC; The Paddle Board Friday was a great success on a flat calm evening in the summer run by Pure Magic; Obstacle Course Fun Races, Life Boat Visits and J80 outings were some of the highlights.
The Wave Regatta Organising Committee – Such a successful event for the whole area of Howth and not just HYC. So great to see a big headline sailing event back in our club and I know we am looking forward to the next one in 2020. An extremely large amount of work went into creating this event from scratch the members that made up the organising committee were Simon Knowles (Finance), Joan Harris (Corporate Hospitality), Dave Cullen (Race Management), Alister Kissane (Sailors for the Sea environmental certification), Ronan Galligan (Security), Ian Byrne (Harbour), Joe McPeake (Commodore), Michael Wright (Hospitality), Grace McAleese (Entertainment), Lorcan Dignam (Forecourt), Dave Murnane (Catering), John Deane (Results), Kieran Barker (Event Secretary) and chairman Brian Turvey.
The Howth 17 Fleet – This is for the grit and determination shown by the Howth 17 fleet when hit with a major loss at the start of the year in storm Emma when quite a number of the boats where damaged with a number of them which in any other fleet or boat yard in the world would be labeled "damaged beyond repair". But not in this fleet! Not only that but the class which represents all that is great out Howth Yacht club also continue to have large numbers out for racing every Tuesday and Saturday of the season and also do a pretty good job of filling the bar after racing as well!
The club are delighted this year to award the Cliona Murphy Memorial trophy, to the Howth 17 class. (Accepted by Class Captain Susan Morgan)
Boat of the Year:
This is an award for the Howth boat and crew that excelled during the calendar year.
The time, energy and financial commitment required to run these campaigns is phenomenal so well done to all for having such a successful year.
The 2018 nominees were
Deilginis– A phenomenal year for this 17 footer, they won series 1,2 and 3 of club racing, the Autumn League, the crew race, the under 30s race, came 2nd in the Lambay and topped it off by winning the Howth 17 National Championships.
Checkmate XV– With wins in all three Dun Laoghaire Regattas this year, overall win in the inaugural Wave Regatta and the crowning achievement of another Half Ton Worlds win for Dave Cullen and crew, this extremely well campaigned boat has represented HYC extremely well during 2018.
Storm – Our boat of the year winner last year had another trophy haul winning the Scottish Series and being overall season winners of the RC35 class.
The Big Picture – Winning the Autumn League this year in one of the most competitive classes for many years came right down to the wire for Mike and Richie Evans on the The Big Picture but they ultimately got the win against the current half ton world champion. The Big Picture were also out club racing every Wednesday and have won Class 2 in the club racing series this year as well.
Mojo – An impressive year of campaigning for Pat O'Neill's J/80, doing the British Nationals and French Nationals in 2018. They finished in the top 10 in the World Championships with a race win in a very competitive 75 boat fleet.
Pata Negra – Impressive results for this boat chartered by a group of Howth members lead by Kieran Jameson and Michael Wright - 2nd in class 1 in the very stormy 2018 Caribbean 600 and then backing that up with another 2nd in the St Martin Heineken Regatta a week later.
Harmony – A big win in the headline race in Cork Week was a brilliant result for Jonny Swan and his young crew. The all-comers harbour race has all nearly 100 cork week yachts starting on the same line and then racing in around Cobh and the whole of Cork Harbour. Harmony won outright on IRC beating many extremely well sailed boats including a TP52! Harmony also finished a close 2nd in the Half Ton Worlds making it a 1, 2 for HYC in that event.
Atara – Ross and Aoife McDonald bringing the Cork 1720 European Championship Trophy to Howth in 2018 with a great win in Irelands oldest and most prestigious sports boat class.
The club is delighted this year to award the Boat of the year trophy, to Dave Cullen and team on Checkmate XV.
Silver Fox Trophy:
This is an award for excellence in racing, cruising or organisation.
Each of these nominees have excelled in their respective classes in 2018 and we hope can all continue that trend and try to better the results in 2019.
The 2018 nominees were:
Colin Kavanagh – Although Colin has now sold his puppeteer Blue Velvet in 2018 he swept all before him. Colin and his crew won the Puppeteer national championships along with the Lambay race, a third time winner in both cases.
Conor Fogerty – Last years Irish Sailor of the Year Kicked off 2018 with a class win in the Carribean 600 which is a second time for Conor! Conor also spent much of 2018 planning for the future and has managed to secure a brand new Figaro 3 foiling keelboat which we may be seeing around these parts soon!
Robert Dickson and Sean Waddilove – Winning the Junior 49er World Championship in Marseilles, one of the very very few teams to have ever won a world championship for Ireland in an Olympic class. They also both go to college in between constant events and training camps, I have no idea how! They are campaigning for the Olympics in Tokyo in 2020, they are working towards qualifying for it in the 49er worlds at the end of this year in New Zealand.
A seriously worthy winner for its principal performance sailing award, the club is delighted to award the 2018 Silver Fox trophy to World Champions Robert Dickson and Sean Waddilove. (Presented to Robert's father - Ian Dickson)
Registered in the Republic of Ireland. Registered No. 81187