Robert and Sean continue their 49er training
06 January 2019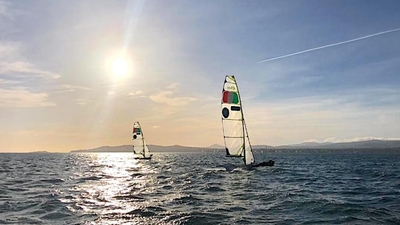 Howth Yacht Club's Robert Dickson and Sean Waddilove return to Vilamoura today as they continue their 49er campaign following a short visit home to Ireland for Christmas with their families. But while many of us enjoyed the time off work and escaping the weekly routines, the Howth and Skerries duo never took a break from their training regime since first arriving home on December 20th. A 10k run on Christmas Day was as close to a 'day-off' that they took, demonstrating their dedication and focus on the possibility of an Olympic place for the 2020 Games in Tokyo. In addition to their many gym sessions over the past 2 weeks, the guys got the chance to do lots of on-the-water training in Dun Laoghaire, no doubt aided by the mild and 'stormless' conditions that have been so unusual for this time of year.
Vilamoura hosts the Portuguese Grand Prix in February and they will base themselves there for the coming weeks on the lead up to what is normally a very minor event on the 49er circuit, but this time is promising to attract all the top sailors to the Algarve as part of the lead up to the European Championships which will be held in Weymouth in May.
Having replaced the top part of their damaged mast before Christmas, Robert and Sean will now be focusing on their starting technique and will use the Portuguese Grand Prix to hone their skills and practice starts amongst the highest quality competition. Robert explains 'We have no expectation to be very highly placed at this event, it's not really one of the key regattas for us but we will want to use it to practice our starts with a goal to making substantial improvements within a top class senior fleet'.
Before taking his flight to Portugal this Sunday, Robert took the opportunity to go kayaking in Sutton Creek, accompanied by some seals that swam from the Bull Island to meet him! With warmer waters ahead, the guys plan to continue their intensive regime on the water this week with their coach Ross Killian and in the company of Irish teammates Sean and Tadgh Donnelly and Ryan Seaton and Seafra Guilfoyle.
Top photo (from Irish Sailing Performance):Making the most of the mild weather, Team Dickson Waddilove and the Donnelly brothers training in Dublin bay with coach Ross Killian. December 30th, 12 degrees and 14 knots - what's not to like!
Registered in the Republic of Ireland. Registered No. 81187