Ronan Wallace extends lead in Laser Frostbites
26 November 2018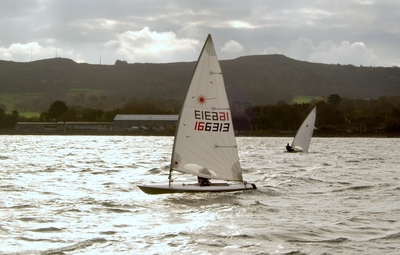 Easterlies were in place again for this weekend's action in Howth. Unlike last weeks' pleasant smooth rolling sea, the breeze was stronger and the ebb tide made for a steeper chop which was much harder work. With winds ranging from 17ts to 25kts, there was plenty of action for the rescue boats too, including a dramatic capsize to weather by your author in race 2. An eager fleet tested race committee patience with a general recall in race one, nicely recorded on video by Harry Gallagher. The fleet got away on the second start, with Conor Murphy leading at the first mark followed by Mike Evans and David Quinn. Evans and Quinn got through Murphy on the first lap with Evans establishing a nice lead on the second beat. Ronan Wallace sailed a superb first run to take the lead, which he kept to the finish. Mike Evans finished second with Quinn in third.
Ronan Wallace led from the start in race 2, with Dan O'Connell not far behind in second throughout the race. Mike Evans and Dave Quinn got tangled at the first weather mark (I was fully to blame after a terrible tack!!), leaving Daragh Sheridan to sail past the carnage and maintain third place to the finish. Ronan Wallace now has a commanding lead, winning 7 of the 8 races so far, with Dan O'Connell now lying second and Mike Evans in third overall.
In the Radial Fleet Tom Fox continued his string of bullets, winning both races today, from Peter Hassett with 2 seconds. Sophie Kilmartin similarly dominates the 4.7 fleet, discarding a second after another 2 bullets today.
(Author - David Quinn with photo of Ronan Wallace's Laser from Neil Murphy on the deck of a rolling 'Sea Wych!')
Registered in the Republic of Ireland. Registered No. 81187