Rolling easterly seas challenge Frostbite sailors
18 November 2018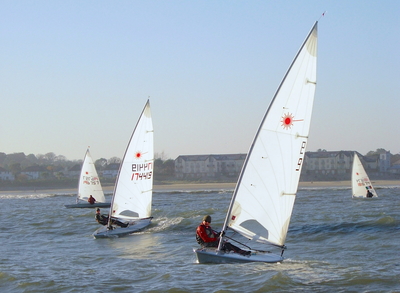 The third week of the Howth Laser Frostbites served up yet another perfect Autumn morning. Easterlies always add to the excitement in Howth with big waves rolling into Howth Sound from the Irish Sea. Numbers were down slightly this week, with post rugby celebrations no doubt partly to blame!
The first race started with a steady 19kt breeze and Dan O'Connell showed the fleet his Masters World's form with a fast first beat to lead at the first weather mark. The first reach in big waves was exciting, with big gains to be made if you could stay on one the the rollers. Dan maintained a small lead from David Quinn throughout the race, with Ronan Wallace and Mike Evans also having a close tussle for 3rd. Tom Fox won the Radial fleet, and put pressure on many of the full rigs throughout the race. Carla Fagan took second place.
The breeze moderated slightly for race 2 with the ebb tide still encouraging the fleet to head left into the sound. David Quinn led at the first mark, and for all of the first lap, before Ronan Wallace overtook him during the second downwind leg. Ronan Wallace went on to win, with David Quinn in second and Dan O'Connell in third. Tom Fox won again in the Radial fleet, from Peter Hassett this time in second.
6 races into the series, Ronan Wallace has a commanding lead, with Mike Evans in second overall and David Quinn up to third. Tom Fox is dominating the Radial Fleet.
Dave Quinn
(with top photo from the steady hand of Neil Murphy)
Registered in the Republic of Ireland. Registered No. 81187