Claremont Series Prize-giving
05 November 2018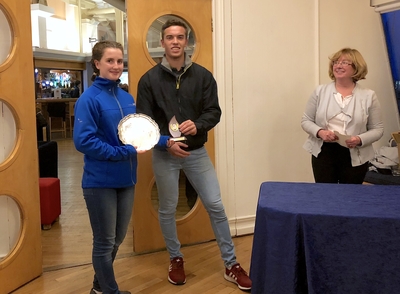 The prize-giving for the Claremont series was held in HYC on Sunday evening 4th November. Sean Waddilove, current 49er World Champion very kindly had some inspirational words to share with the junior sailors and reminded them that there is life after Oppies! It was a great opportunity to get the junior sailors together for some pizza and some crack and Deirdre O'Callaghan (the HYC Optimist Class Captain) organised some fun prizes.
Two classes competed in the Claremont this year – The Sundry division included a mix of Lasers, Toppers and Fevas and the Optimists split into Gold and Silver Fleets.
In the Oppie Gold fleet, 1st place and winner of the Frazer Casey Trophy was Des Turvey, with Taigh O'Callaghan in 2nd place and Fiachra Farrelly in 3rd.
In the Oppie Silver fleet, 1st place and winner of the Mirror Cup went to Elliot Tompkins Beady, with 2nd place awarded to Matthew Bray and 3rd place to Ciara McMahon.
In the Sundry fleet 1st place and winner of the Mellon Salver Trophy was Abby Kinsella from Sutton Dinghy Club sailing a Topper and in 2nd place was Ruth Lacy HYC in a Laser 4.7.
A big thanks to all the sailors for competing and to the many volunteers for their help in running the series.
Registered in the Republic of Ireland. Registered No. 81187