KBC Bank Autumn League Carries Summer into Autumn with Style
21 October 2018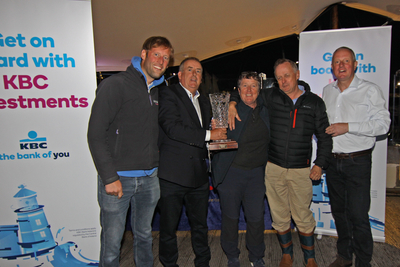 The six Saturdays of the KBC Bank Autumn League at Howth Yacht Club experienced some days so perfect that by the time it concluded with the mother of all festive prize-givings last night, everyone had forgotten that somewhere in the series there was one day of little wind with rain and even some fog writes W M Nixon.
Yet despite the conditions, that particular day's programme was completed. And as for the other five late season Saturdays, they served up an ideal variety of good racing conditions, including days of Autumnal perfection when the sunshine had an almost surreal luminosity.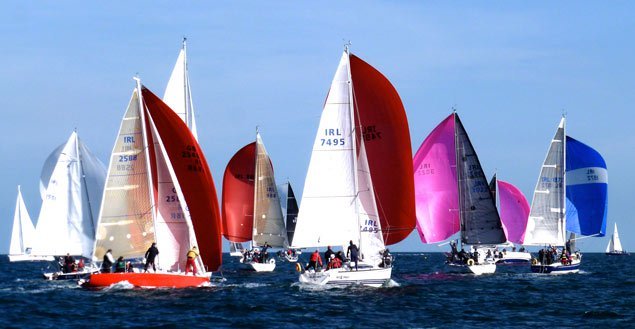 The League's Organising Chairman Eddie Bourke and his committee knew they were heirs to a well-established sailing tradition, as Howth's Autumn series was first sailed in rudimentary form in 1979, and will be looking at its 40th Anniversary next year. KBC Bank came aboard as sponsors for 2018, and a core team from the bank, led by Investment Manager David Murphy, joined the party in Howth last night, where the distribution of many trophies was presided over by Commodore Joe McPeake.
Bringing such a complex event to its successful traditional conclusion involves multiple factors. And even when everything is properly in place to stage racing on two different course areas, the great imponderable of the Irish weather is the focus of close attention for six weeks in a row. But as the photos reveal, even after the many cloudless days of June and July, the tail end of 2018's summer still had some strong sunshine left in its locker, and it generously distributed it at Howth through September and October Saturdays.
Add to that a good selection of sailing breezes – mostly westerlies – and you have everything in place for the perfect rounding out of one of Howth Yacht Club's most successful seasons, with boats which had brought HYC success in major national and international events featuring at the head of many classes in the KBC Autumn League. That said, it speaks volumes for the underlying quality of the home fleet that the stars of the national and international scene didn't always have it their own way during these past six weekends.
However, in IRC Class 1 it was a case of repeat and convincing success with Pat Kelly's J/109 Storm winning overall - her scoreline was 1,3,2,1,1,1 - from the Breen-Hogg team in the First 36.7 Flashback. But IRC 2 was different. Here we had Checkmate XV (Dave Cullen) and Harmony (Johnny Swan), the Howth boats which had been first and second in the Half Ton Classics in Belgium in August, while Checkmate had also been Supreme Champion in the popular Wave Regatta in Howth in June.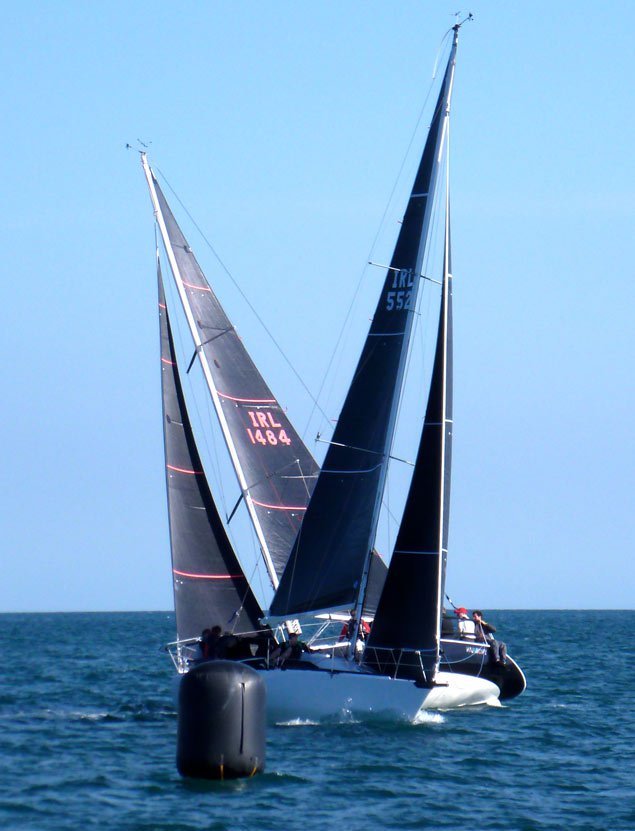 Yet in the Autumn League, it was another classic Half Tonner, Michael and Richard Evans' The Big Picture, which emerged as tops, for although she and Checkmate tied on 14 points for the overall IRC Class 2 lead, The Big Picture's scoreline of 1,1,3, 2, 1 and 6 included more firsts, so she shaded it with Checkmate second, Nigel Biggs' Checkmate XVII third, Harmony fourth and Stephen Quinn's J/97 Lambay Rules fifth in a ferociously competitive class which also included the Howth-based J/80s, where Robert Dix in Jeannie won from Dan O'Grady in Jammy.
IRC Class 3 had a fascinating lineup, as it included Afloat.ie "Sailor of the Year" Conor Fogerty racing his pet boat, the vintage Silver Shamrock which was World Half Ton Champion under the command of Harold Cudmore at Trieste in 1976. The news is Silver Shamrock still has winning ways, as she took IRC 3 in convincing style with a score of 1,4,3,1,2,3,2 to have 12.0 pts to the 14.5 of Insider (S & D Mullaney) and the 17.0 of Vincent Gaffney's Laser 28 Alliance II.
IRC Classes 4 and 5 were the non-spinnaker divisions, with Stephen Harris and Frank Hughes' First 40.7 Tiger winning IRC 4 by one point from Colm Bermingham's Elan 33 Bite the Bullet, third slot going to Dermot Shekan's Castro-designed Toughnut. IRC 5 saw another vintage Shamrock win, with Steff Ennis & Windsor Lauden taking first with their Club Shamrock Demelza, while second place went to Terry McCoy of Skerries with First 38 Out & About, third going to Gordon Knaggs with the First 32 Jokers Wild.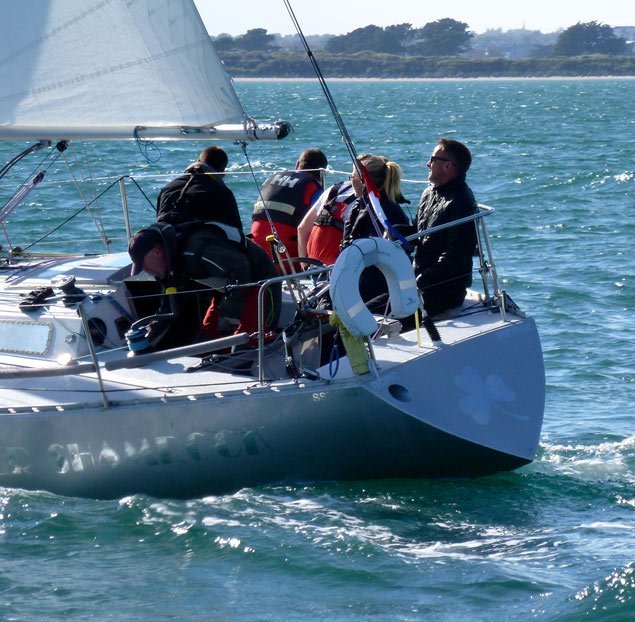 In the three One-Design classes, the slowly-reviving Squibs mustered eight starters, with Fantome (R MacDonnell) winning overall with 12.6 points to the 15 of Derek Bothwell's Tears in Heaven, with Fergus O'Kelly on the Taste of Racing scheme with Aurora coming third on 21.
The Puppeteer 22s had the best turnout of the ODs, with 15 boats coming to the line. Algy Pearson and Alan Blay with Trick or Treat were in sparkling form, discarding a fourth to finish with a scoreline of 1,4,1,1,1,1 to give them just 9 points to the 14 of Scorie Walls in Gold Dust, with Andrew and Robin Hegarty's Eclipse taking third on 19, the same points as Neil Murphy's Yellow Peril but the Peril was eclipsed, as you might say, on the countback, and the Hegartys were declared third.
The venerable Howth 17s had a regular turnout of fourteen boats for the entire series, a miraculous recovery from the damage wreaked on them in their winter storage shed by Storm Emma at the beginning of March. And the class is in great racing heart, for although Deilginis (Massey family & Mikey Toomey went into the last race with the series already won, it was done by steadiness through nearly always being in the top ten, for in this seven race series, each race was won by a different Seventeen. Nevertheless Deilginis's scoreline of a discarded 5, followed by 3,2,2,2,1,3, put her on 13 pts to the 17 of Rita (Marc Lynch and John Curley, while Peter Courtney was third on 27 with Oona, and two consecutive OCSs meant that Brian & Conor Turvey fell to fourth in Isobel on 28, level on points with Ian Malcolm's Aura, but winning on countback.
Results of the HYC Autumn League are here
Next up on the Howth agenda is the Brass Monkeys series for cruisers, starting on Sunday November 4th when there'll also be the first race of the annual Laser Frostbite Winter Series, which dates all the way back to 1974. But for now, memories of the fantastic sunshine which blessed much of the KBC Autumn League is a memory to cherish.
WM Nixon
Registered in the Republic of Ireland. Registered No. 81187