Sparkling conditions for first race of KBC Autumn League
16 September 2018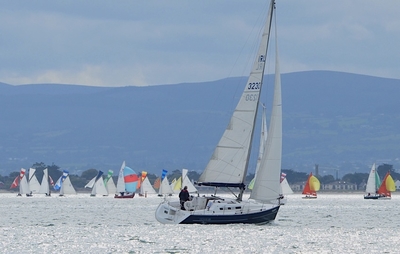 Weather conditions for the first race of this year's KBC Autumn League provided a gentle start for the 600 sailors competing in the 8 classes on Saturday afternoon. Light winds and warm temperatures prevailed for much of the day, reminiscent of many previous years and the first day of the six-week series that always promises more challenging wind and sea-states. The southerly/ south-westerly wind rarely gusted more than 11 knots after it had weaved its way through the Dublin Mountains, across Dublin Bay, around Howth Peninsula and then brushing across the flat and sparkling waters of the 2 racecourses.
The race management teams had indicated onshore that racing would be round-the-cans this week and most classes enjoyed a 2-hour race in the gentle but somewhat shifty conditions.
In class 1, Don Breen and Paddy Gregory's team on 'Flashback' read the conditions perfectly, finishing ahead of the chasing J109s led by Simon Knowles and Colm Buckley's 'Indian' and 2018's all-conquering 'Storm'. A move by event organisers not change pre-existing splits between the cruisers classes meant that class 2 is the largest fleet with 21 boats on their start line and creates internal rivalries including those between the Half-Tonners, X-302s and Corbys. As with many of the competing boats, the Autumn League allows teams to utilise a near-complete season of racing experience to demonstrate the very best of teamwork and refined skills. This might suggest that the regularly raced boats would come to the fore, and indeed they did, with Michael and Richard Evans's Half-Tonner 'The Big Picture' winning both IRC and ECHO races - taking 'first blood' in the series.
Winning the Class 3 division will be no easy matter either, with two K25 teams, Conor Fogarty's classic 'Silver Shamrock', Vince Gaffney's 'Alliance II' to name but a few, all on form and vying for contention. However it was to be 'Silver Shamrock's' day, winning by 2 minutes from the K25 team on 'Kilcullen' and doing the 'double' with a win on ECHO also.
The Non Spinnaker divisions are split between Class 4 and Class 5 and it was to be the Harris/Hughes team on their Beneteau 40.7 'Tiger' that used the conditions to best advantage in Class 4, ahead of the well-sailed Sigma 38 'Spellbound' which won on ECHO and the always-contending 'Bite the Bullet'. Boats in Class 5 will have to be up early to get ahead of Windsor and Steffi's Club Shamrock 'Demelza', the 1979 classic won both IRC and ECHO races.
A change in dynamics in Howth's one-design classes might suggest that the often cyclical changes in the number of boats racing is again at play, with a reduced-size Puppeteer class balanced by a re-emerging Squib class and the ever-vibrant Howth Seventeens.
A familiar pairing of red Puppeteers topped their fleet this week, with Trick or Treat followed over the finish line 25 seconds later by Dave Clarke and Liam Egan's 'Harlequin'. Frank Dillon replicated his form in the handicap division by steering 'Flycatcher' to victory.
Six of the eight entered Squibs raced and former Commodore Derek Bothwell secured two wins for his brace of boats! In 'Tears in Heaven', Derek won on scratch and his other Squib ('Aurora'), part of the Taste of Racing project for this event, won on handicap. Fergus O'Kelly is bringing some of this year's graduates racing on "Aurora" and the first day bodes well for their chances of overall success.
The light winds suited Marcus Lynch and John Curley in their Howth Seventeen 'Rita' and second placed 'Aura' (Ian Malcolm) whose 120 year-old boats showed a clean pair of heels to the rest of the fleet from the first windward mark. The Seventeen's unique handicapping system is designed to ensure that those boats that have difficulty competing on scratch will exclusively win the handicap prizes. Tom Houlihan's 'Zaida' won this week's race.
This year the cruiser racing classes are invited to take part in an ORC trial which is being run alongside the other divisions. Interested teams can still sign up by forwarding their IRC certs so that their measurements can be incorporated in this trial rating.
Event sponsors KBC Bank provided a colourful backdrop to the day and they will be presenting prizes to this week's winners after racing next Saturday. The apres sail party is complimented each week by drinks promotions and live music. The club also provided a delicious range of (free) tapas to competitors when they came ashore.
Racing continues next week and a full gallery of photos from this week can be viewed here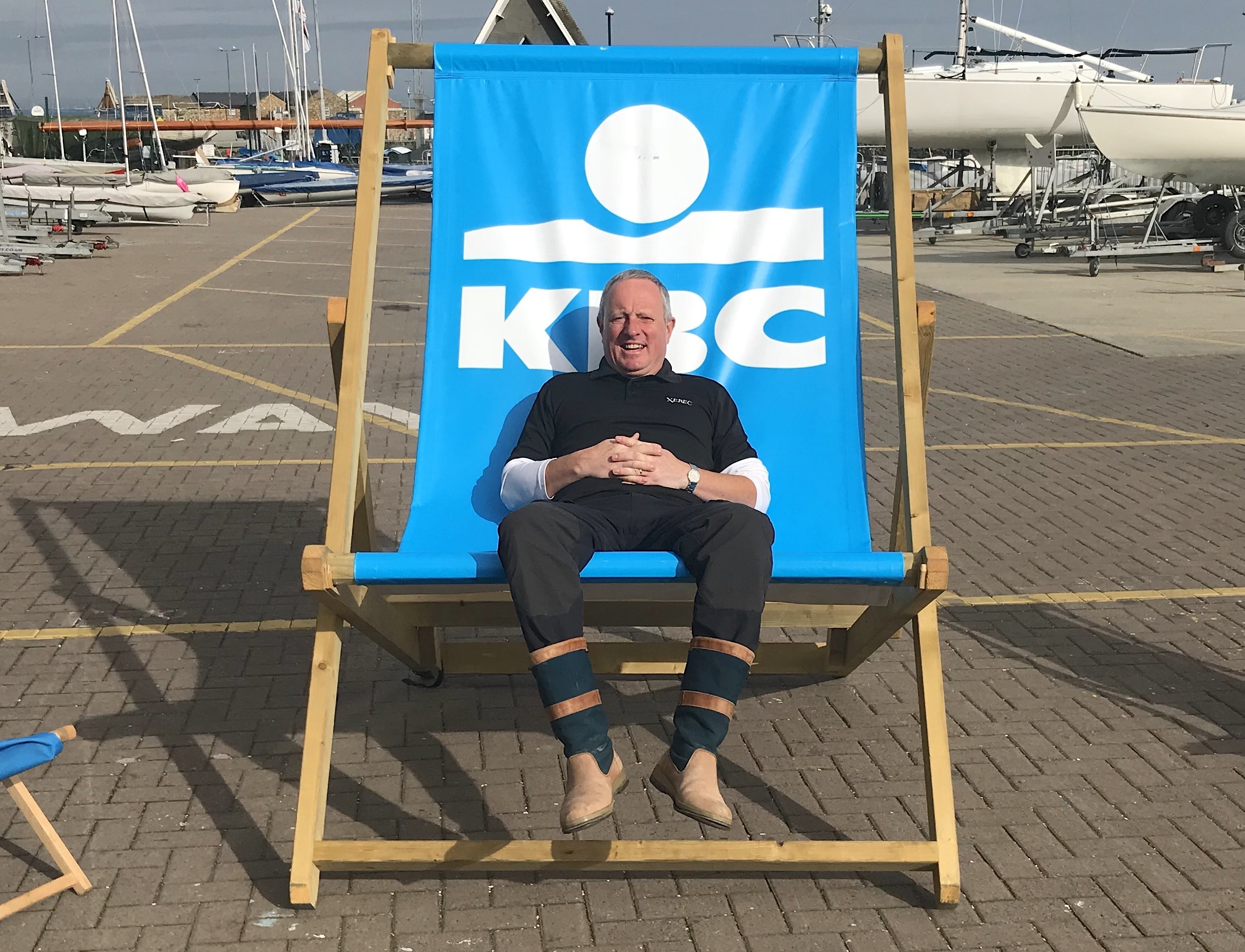 Registered in the Republic of Ireland. Registered No. 81187