KBC Bank partner with HYC Autumn League
13 September 2018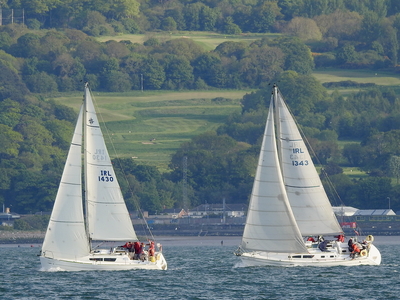 KBC Bank has announced its title sponsorship of Howth Yacht Club's Autumn League. The Autumn League, which is now in its 39th year, is a large multi-class keelboat regatta and is one of the largest sailing events of its type in the Irish sailing calendar.
Every year, the autumnal six-week keelboat racing series attracts over 100 keelboats and more than 600 sailors from Ireland and abroad, with the age of entrants ranging from 18-80 years. The Regatta will take place over six Saturdays, commencing on the 15th of September and runs until Saturday the 20th of October.
David Murphy, Dublin North Investment Manager, KBC said, "At KBC, we believe it is important to support initiatives and events that play an important role in communities and towns across Ireland. Howth Yacht Club was founded in 1895 and has played a central role in the growth of the harbour town's reputation, attracting keen sailors from all over the world. The Howth Yacht Club Autumn League has been running for nearly forty years and has deep roots in the community, so we are delighted to come on-board this year and support the continued success of the regatta."
Eddie Bourke, Chairman of Howth Yacht Club's 2018 Autumn League, said, 'Howth Yacht Club are delighted to welcome KBC Bank onboard as partners for our Autumn League. Their involvement will add substantial value to the event, benefiting the hundreds of participating competitors by presenting a vibrant and memorable 6 weeks of racing and entertainment ashore.'
In addition to competing for a range of Autumn League silverware, race winners will also enjoy weekly prizes. The overall winner, calculated as the boat that wins on scratch or IRC by the largest margin, will be presented KBC Bank on Saturday 20th of October.
The event includes the 'Team Prize', encouraging the formation of teams comprising of one boat from each of 3 different classes to compete for the Olympus Trophy. This year's event also sees the additional trial of ORC rating for some of the cruiser classes and Ireland's first attempt to compare results with the established and regular IRC rating for cruiser-racing classes.
A special 'family day' is reserved for Saturday 22nd September, when HYC members and Autumn League participants are invited to bring their families to the club for an afternoon of fun and entertainment. See here for details
Registered in the Republic of Ireland. Registered No. 81187