Squib fleet emerges in force for Autumn League
10 September 2018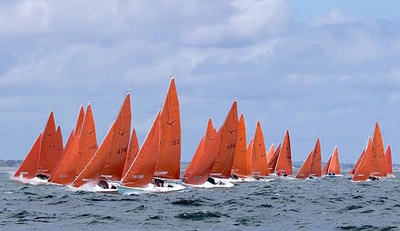 With eight Squibs already entered for the Howth Yacht Club's KBC Bank sponsored Autumn League, the potential for additional visitors from Dun Laoghaire will be attractive and will make for great racing for the 6-week-long keelboat series. The future certainly looks very bright for the class in Howth when you consider that apart from the already entered, there are two other Squibs in the local fleet that are currently out of action (Emer Harte with a hand injury and Fergus O'Kelly with a 'boat' injury).
Two further boats will be joining the fleet for next season, names are being withheld until family members have been notified. (The spouses!)
The very successful HYC Taste of Racing program will also be activated to compete in the Squib Class for the Autumn League. The Squib is the ideal boat for new sailors to take the first step in helming/ boat ownership. This is a timely re-building of the Squib fleet in Howth, especially as the Squibs were the class that started the Autumn League when it was initiated in Howth in 1979.
Registered in the Republic of Ireland. Registered No. 81187