Perfect conditions for HYC Dinghy Regatta
09 September 2018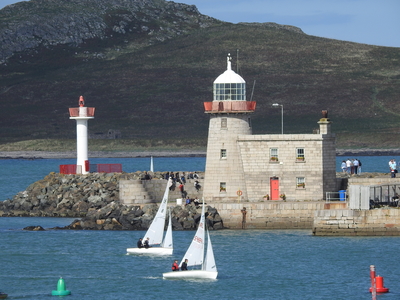 Last week's Dinghy Regatta which was kindly sponsored by MGM Boats had a total of 53 entries with the Regatta Fleet being the largest class with a total of 13 entries. Howth Yacht Club was delighted to welcome the 420 sailors from as far afield as Wexford Harbour Boat and Tennis Club and a special entry of IDRA's from both Sutton Dinghy Club and Clontarf Yacht & Boat Club.
PRO Richard Kissane managed the main fleet and he and his team ran 3 consecutive races on Sunday afternoon with the wind strength of 10-17 knots making perfect racing conditions.
The Regatta Fleet racing was managed by David Sargent and his team ran 6 races and also his infamous fun race (chasing balloons filled with chocolate) much to the delight of the returning and hyper sailors!
A special thanks to our Sponsors MGM Boats, Jenny Harris, Brian McDowell and their fantastic rescue team, Race Officers Richard and David, John Deane and all the volunteers involved.
Registered in the Republic of Ireland. Registered No. 81187