Romeos in the Rias - Voyage on Spirit of Oysterhaven
02 September 2018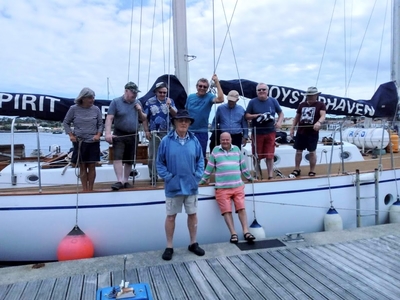 The Spirit of Oysterhaven is a 20 meter schooner. She had been based in the Oysterhaven Sailing Centre and was a sail training vessel. She is now in Galicia where she had been in for a refit in the Xufre Yard on the Illa de Arousa.
Sun 12th August
High noon in Riveira, the Romeos arrived on board. Admiral Gerry O'Neill, Cyril Geran, Wally McGuirke, Joe Nolan, Tony Reilly, Joe Kennedy, Paddy Madigan, Peter Clarke. All had been on the go since 04.00 to get to the airport for the early morning flight to Vigo. 2 Taxis were hired from Vigo to Riveira. The first 10 seconds on board were taken up with the orderly distribution of bunks. Luggage was stored in an orderly and ship shape fashion. Admiral Gerry soon found the galley and started to cook up a full Irish Breakfast…. Superquin sausages, Clonakilty black and white pudding, and genuine rashers. The dry air of the flight had to be doused with the merest hint of Jemmie. The rest of the day was spent in revival mode, power napping or strolling the area; until a dinner in the sailing club at 21.00.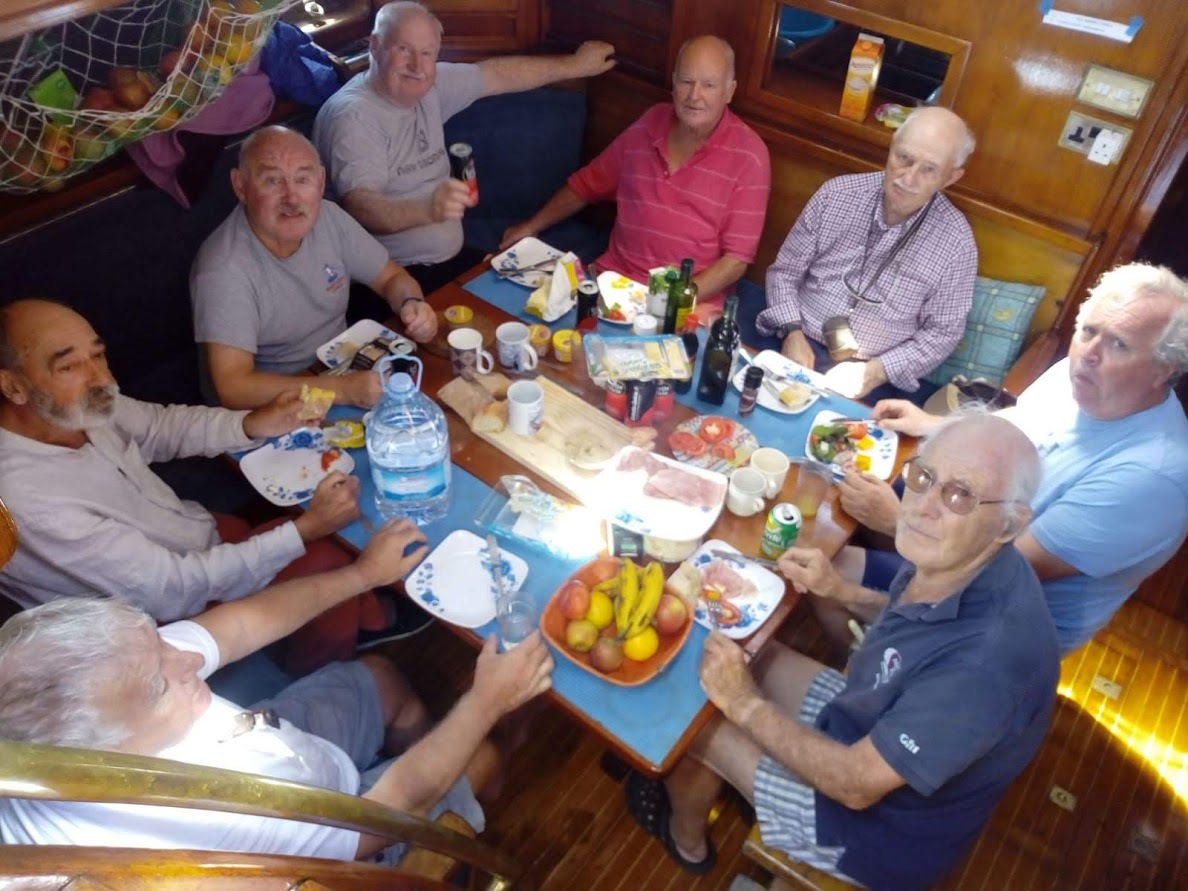 Monday 13th August
Late dinner equals late breakfast; the first morning was overcast with a light breeze. After breakfast we got underway. The Romeos enthusiastically hoisted fore main, aft main, Genoa and Yankee. All sails were up for the first time on Spirit since her arrival in Galicia from the Azores last April. It looked and felt good to have her sailing again. The annual yacht race from Vigo to Pobra and return was getting ready to start the return leg. There was approximately 50 boats of various different classes. We took evasive action and had a great view of the various classes getting underway. An afternoon breeze came up and the racing fleet took off towards Vigo. Having had a light breeze in the morning Spirit did what she does best, up to 7 knots, in only a force 3-4; easy sailing.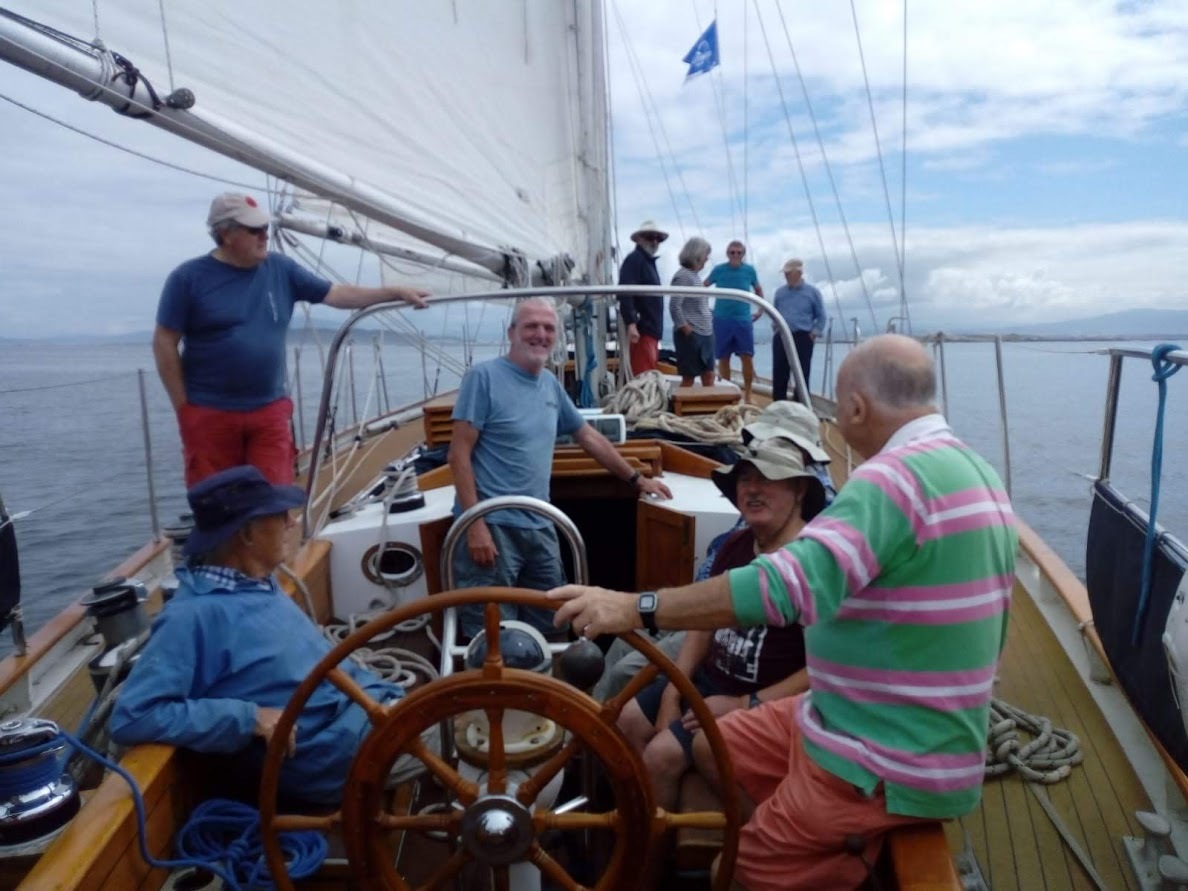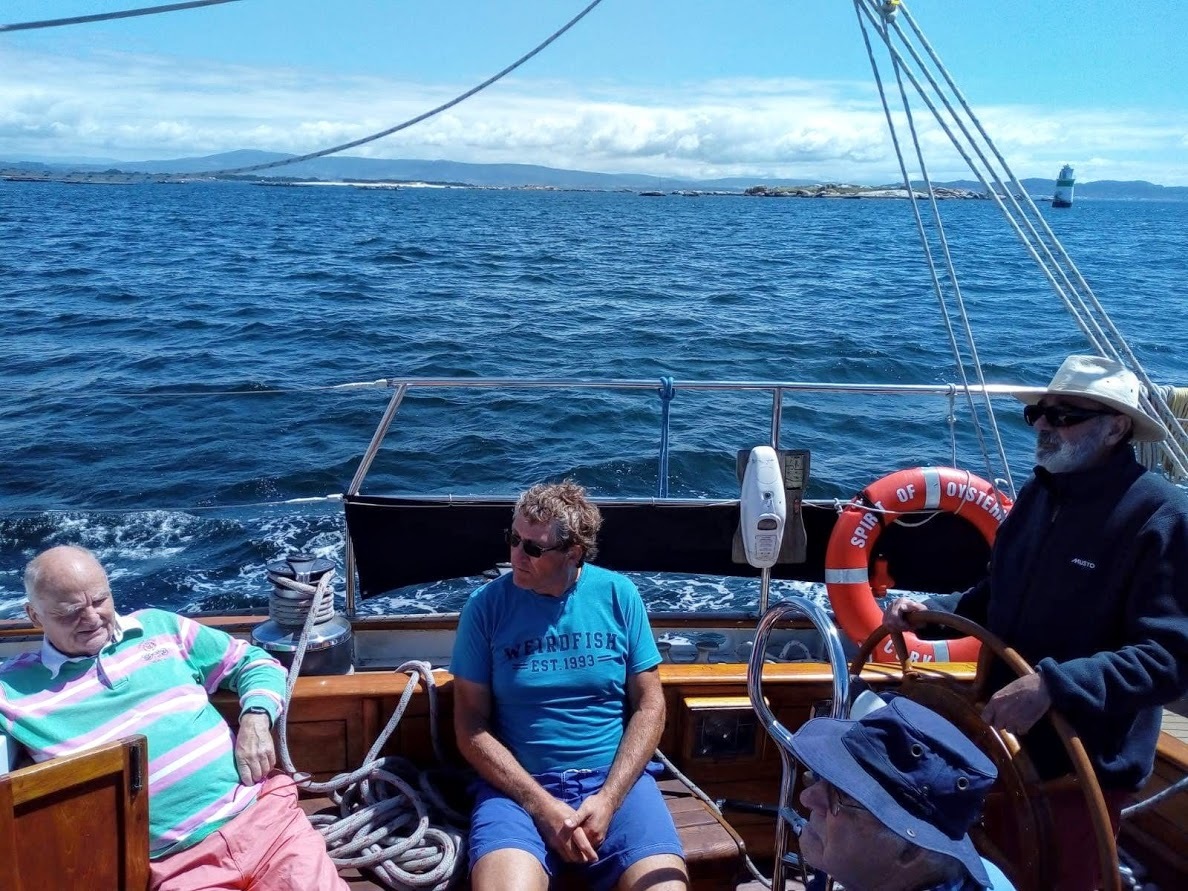 We arrived in Pobra in late afternoon. Joe had been in contact with the Marina Office and there was a good berth provided. The mariniero was very helpful, and we were greeted by one of the other Irish Flagged boats which were berthed here. A scouting party was dispatched to forage a place for dinner in a local restaurant. An alfresco establishment was found with great value tapas, vino and cervesa. A contribution was made to the local wine growers and the Romeos saved a bundle.
Tuesday 14th August
Following a late breakfast, it was unanimously agreed to have a lazy adventure day. There was a beautiful clean beach within plain view about 10 minutes' walk from the marina. The town itself is only a short walk and is a designated heritage town. There were 4 or 5 Irish flagged yachts in the marina, everyone knew of Spirit of Oysterhaven and many took the opportunity to have a peek on board.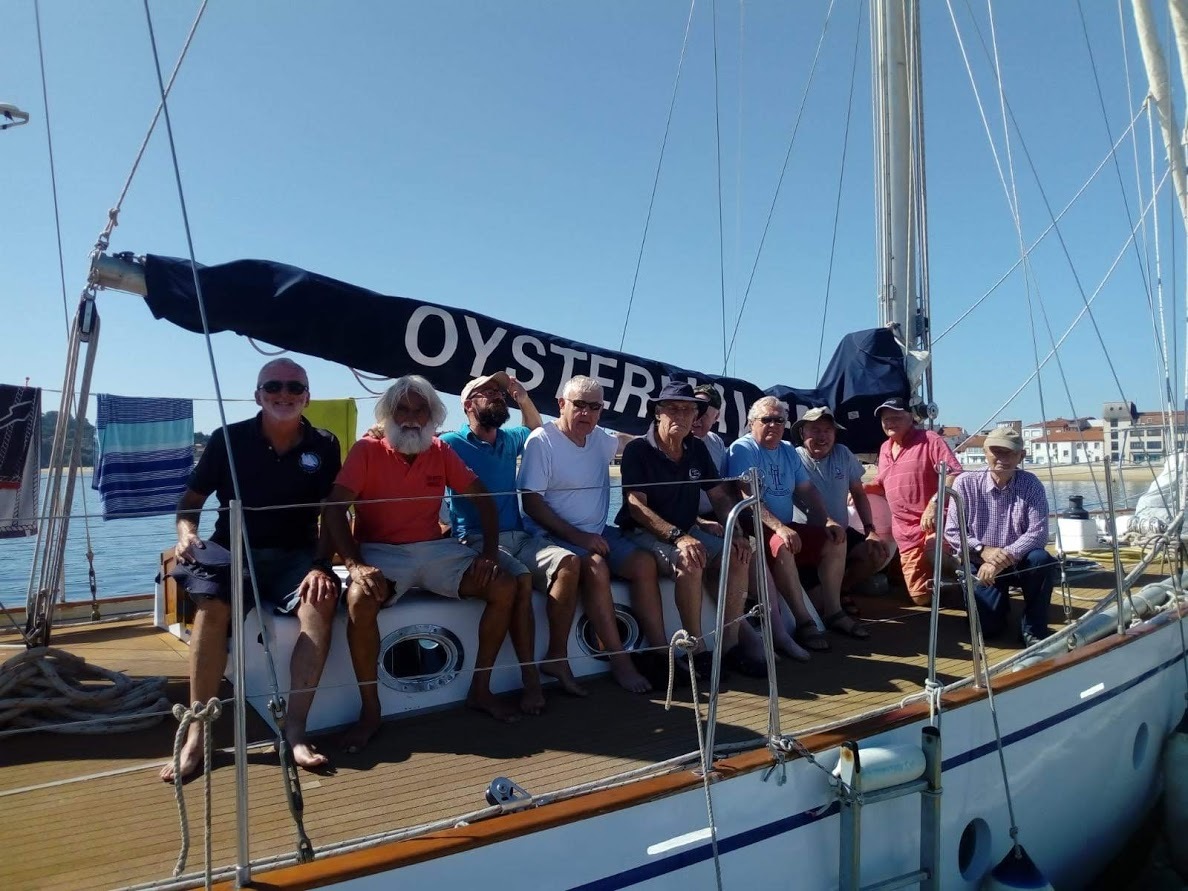 After breakfast we departed Pobra in light north easterly winds and in clear sunny day. We decided to investigate an interesting looking beach anchorage on Ila de Arousa. In light winds under Genoa alone we sailed through well marked and positioned mussel rafts. The "no go" for yachts area was well marked with yellow buoys. We dropped anchor clear of the "no go" zone in 6 meters of water. We launched the dinghy and the first party went ashore, landing on the beach. When the second party had landed, the beach ranger "robustly" advised that the use of engines was strictly forbidden inside the yellow buoyed area. The Romeos true to form found a shady spot with a good view of all the beach activity and duly supported the local malt growing economy. Joe found the nearest beach landing spot for the dinghy outside the buoyed zone which was a distant walk from the shady viewing platform. When it was time to leave, there was a bit of keffufling to get from the shade to the dinghy to back on board. Eventually all the shore party were back on board and we made our way to Cabo De Cruz Marina. Once again, on our approach to the marina we were greeted with folks who were acquaintances of Spirit of Oysterhaven. Cabo de Cruz Marina is only a few years old. There is a bar/restaurant at the top of the pontoons. The beer, wine and tapas are excellent.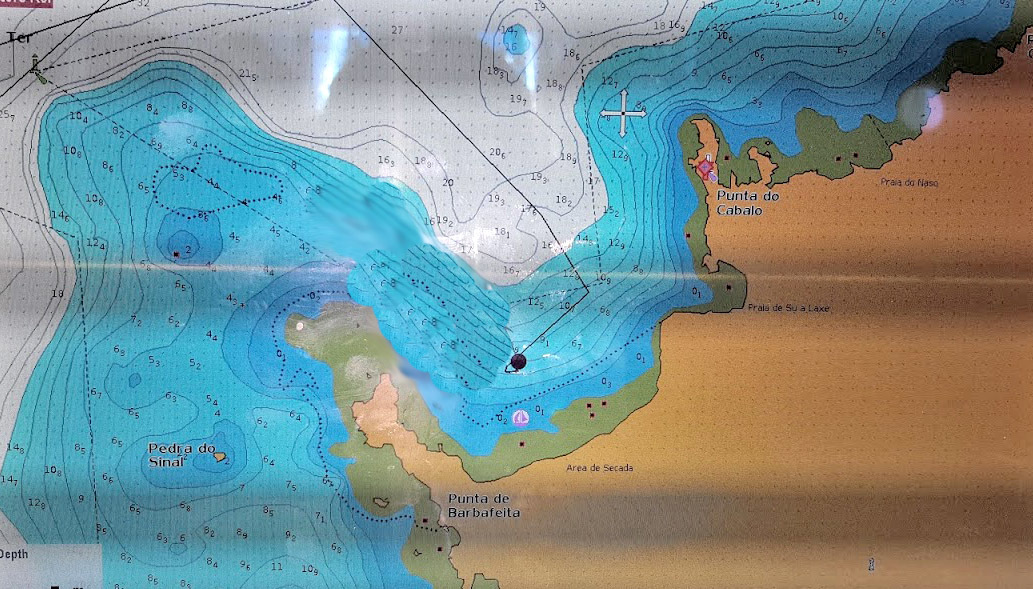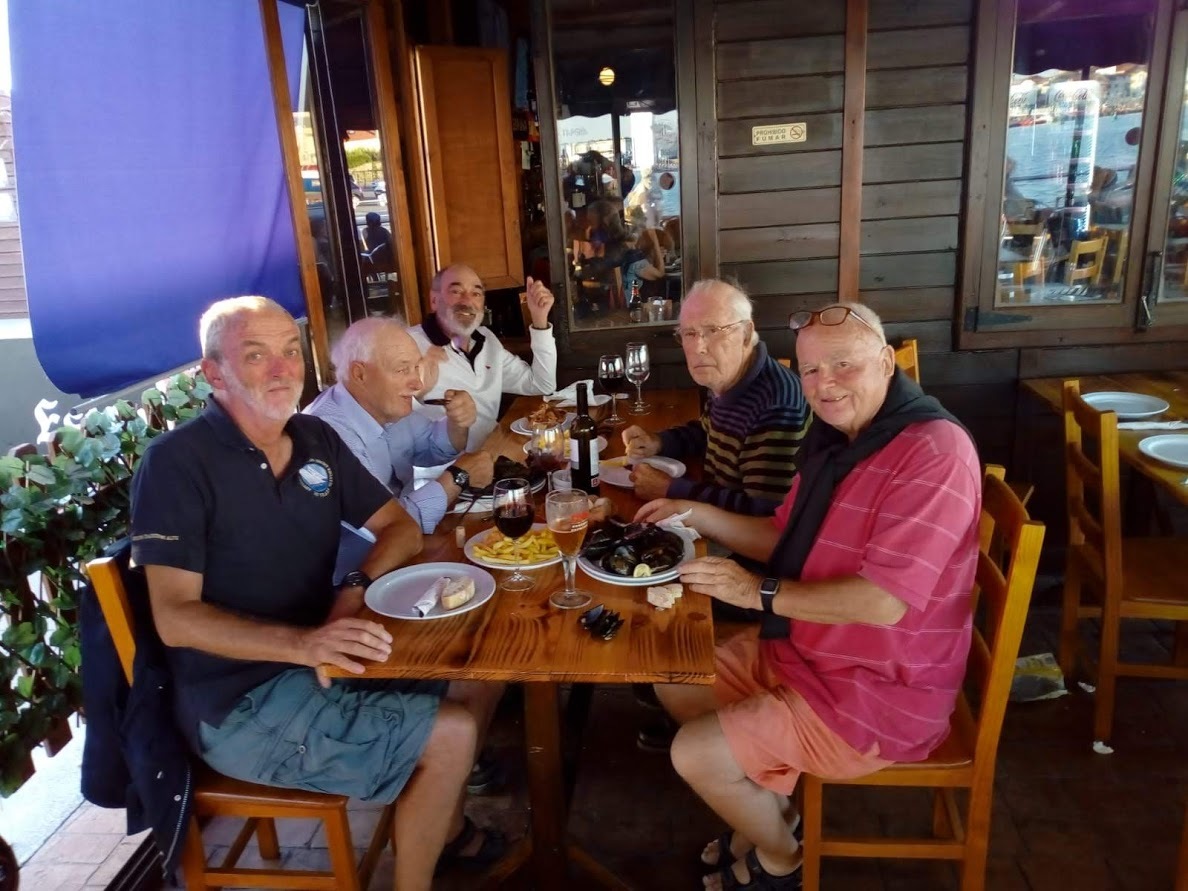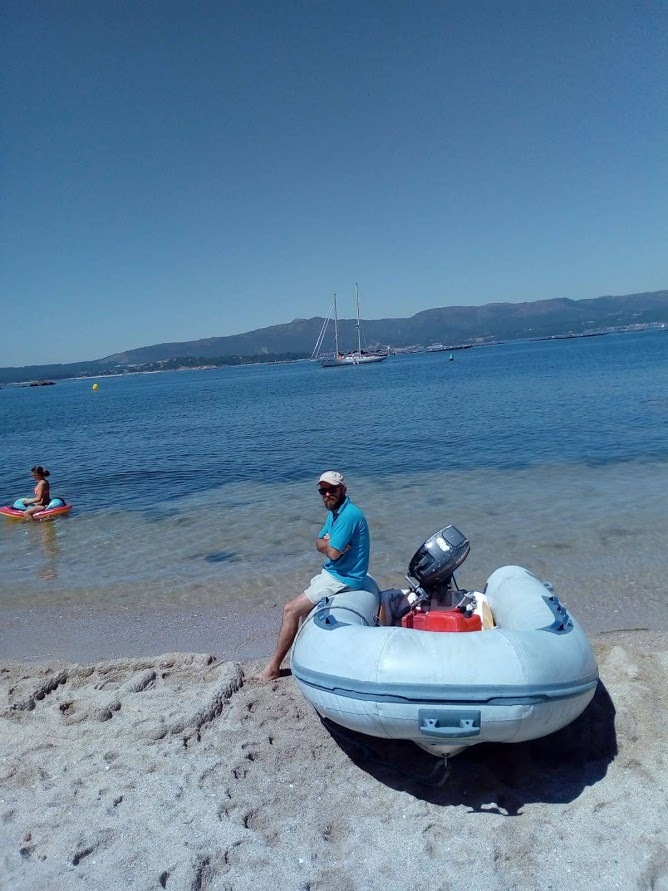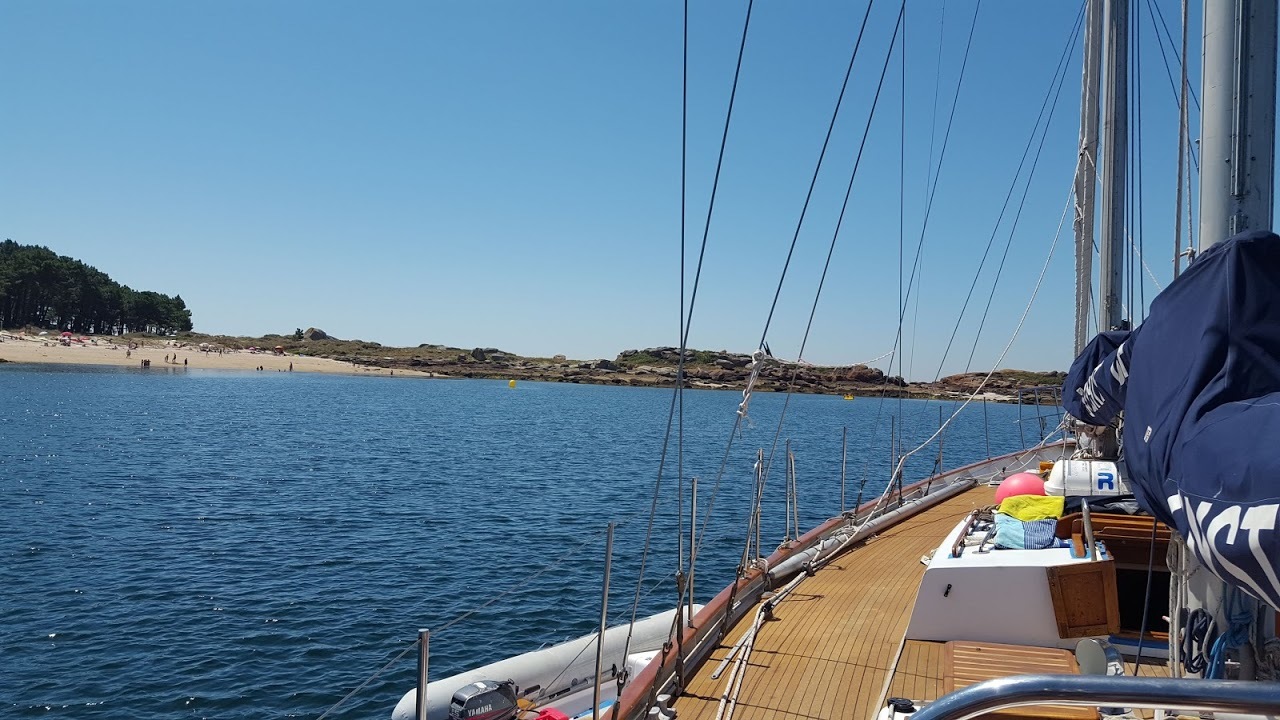 Thursday 16th August
After breakfast we departed on a day sail with genoa alone to east side of Ria and north of Ila de Arousa. The wind was fresh northerly and we were in no hurry, so we rolled out the Genoa to a comfortable "doss sail". Keeping an eye on the mussel rafts we sailed south of Cabo de Cruz and then headed north east towards Illa Cortegada. There were numerous yachts out for a "Tack". Clear skies, steady wind, flat seas and beautiful boat, great company.
On our return to Cabo De Cruz we were greeted by Carol Cullinane and her daughter Emma, Carol had lived in Oysterhaven Bay and is now living in Galicia. They had heard Spirt was in the area and came to visit. It did not take any persuasion to convince them to have a trip from Cabo de Cruz to Riveira the next day.
Friday 17th August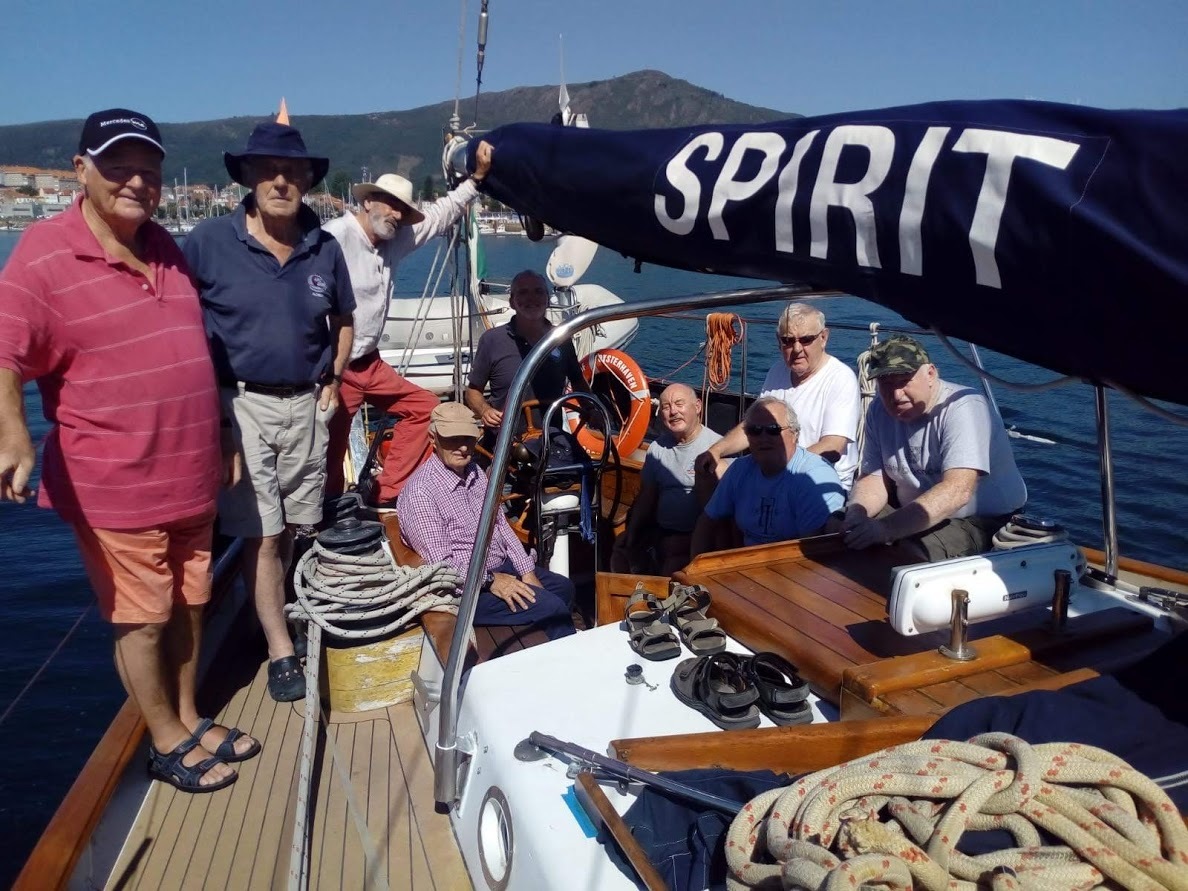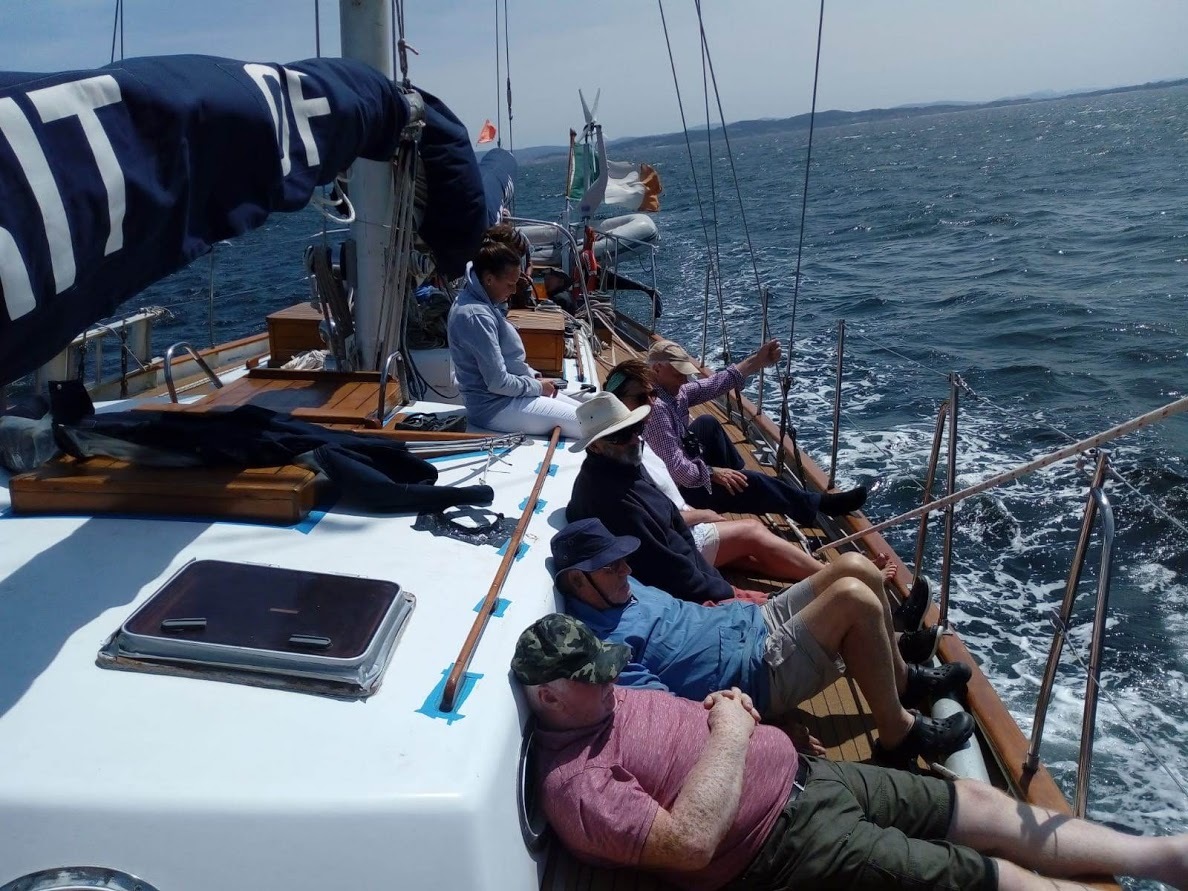 We departed Cabo De Cruz Marina after breakfast and headed south with a fresh northerly wind. Rolled out some genoa and soon were shifting along nicely under sail. Our destination was Riveira, but the weather was such that we diverted off to the east of the Ria to prolong the sail and enjoy the scenery. Wind freshened up to a 5 or 6 as we entered into Riveira Marina. Our berth was a hammerhead and luckily the wind was from favourable direction to help us onto the marina berth. Our guests Carol and Emma had a great time on board, Emma showed real talent for helming, kept a bee-line course, her first time ever to use wheel steering.
Saturday 18th August
Fresh northerly winds greeted us in the morning so it was decided to enjoy the day ashore. The party split into those who wanted to see Santiago and those who preferred to explore the town of Riveira and its local Saturday Market. The town was crowded with local people seeking a bargain in the hundreds of stalls selling everything and anything When the Santiago pilgrims returned there was fierce thirst from all the Camino trekking. Dinner was booked ashore in the local yacht club again. We received a great welcome, had great food; great prices; Estrella Galicia Cervesa; Vino Collapso del Casa; saved a fortune!
Sunday 19th August
Early morning start for the journey home….taxis arrived spot on time 07.20. All Romeos departed and all had a great holiday on Spirt of Oysterhaven in Ria de Arousa.
P.S.
This narrative would not be complete without saying a big thanks to Joe Cox, (nick named Joe de Boat (Barco),). Joe's role on board was mate. He was a great asset to the whole voyage. He undertook all and every task with good humour and enthusiasm. His knowledge of Spanish was particularly helpful.
Report by Garry Davis
Registered in the Republic of Ireland. Registered No. 81187