Howth Yacht Club's Checkmate XV and Harmony top Half Ton Classics Cup 2018
01 September 2018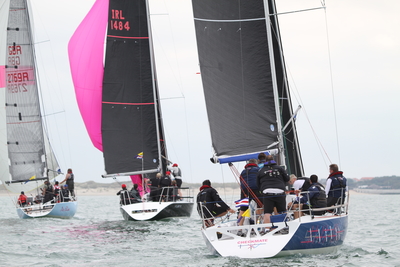 With a convincing win in the final spectacular race run in glorious sunshine and big seas off Nieuwpoort, Checkmate XV and her crew of owner David Cullen, Darragh O'Connor, Nin O'Leary, Jonathan Sargent, Aidan Beggan, Niki Potterton and Franz Rothschild of Howth Yacht Club claimed a well-deserved overall victory in the 2018 Half Ton Classics Cup. For David and his team is was their second win, the first also being here in Nieuwpoort in 2015.
In a unique one-two for Ireland (and HYC), Cullen's club mate Jonny Swan with crew of Joe Turner, David Kelly Jnr, Eamonn Bourke, Ryan Glynn, Nigel Young & Edel Harvey on Harmony took second overall, to underline the high standard of Half-Ton racing in Ireland at the moment. Jonny's team gave a fantastic performance to secure their best result to date at this highly competitive event and gave Checkmate XV a really good run for their money.
It was noteworthy that when the wind came up, the hardy Howth crews came to the fore to secure these excellent results.
The Half Ton boats have proven to be highly competitive under IRC and can represent a cost effective way of joining Class 2 with competitive boats ranging from €20k upwards. Currently we have five Half Tonners in Howth including Checkmate XVIII, The Big Picture and King One.
Registered in the Republic of Ireland. Registered No. 81187