2018 Watersport Inclusion Games - a huge success
30 August 2018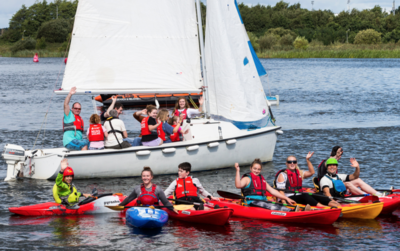 Galway welcomed nearly 200 people to the second annual Watersport Inclusion Games that took place last weekend for people with all abilities on the physical, sensory, intellectual and learning difficulty spectrums. This annual two-day event aims to show both participants and their families, as well as people who organise watersport events, that everyone can get out onto the water.
The Games had two elements: at the Commercial Boat Club, Irish Sailing put on introductory activities for those new to watersports. This year there was an expanded choice including sailing, rowing, canoeing, stand-up paddle boarding, and fast-boat rides, with many people trying out all of the watersports activities over the course of the weekend.
The second element was a competitive sailing event. This took place in Galway Bay with more experienced sailors including Kinsale YC's Gina Griffin, World Sailing 2.4 Parasailing silver medallist competing in the Hansa Nationals, and the President's Cup which was won by Munster.
Harry Hermon, CEO of Irish Sailing commented: "This is the second year of the Games, and we were delighted to welcome all of the participants from the four corners of Ireland. We are already starting to plan for next year's Games in Cork, when we hope to reach even more people from all abilities and encourage them to take up watersports. Neither event would have happened without the 100 or so incredible volunteers who generously donated their time and expertise."
"It was a pleasure and a privilege to witness the fabulous sailing skills, can-do attitude and camaraderie on display on the water yesterday" Volunteer and mother of participant.
"Just reflecting here on the weekend and I can't help but smile when I think about it and I will for some time to come….Thank you doesn't do it justice but THANK YOU!" Parent of participant
The Games were organised by Irish Sailing, in partnership with Canoeing Ireland, Rowing Ireland, Spinal Injuries Ireland, Galway Bay Sailing Club Sailability, Galway Sports Partnership, Wet Mongrel Adventures and Waterabilities, and funded by the Sport Ireland Dormant Accounts Sports Inclusion Fund.
Huge thanks also to Galway Kayak Club, St Joseph's Rowing Club, Tribesmen Rowing Club, Corrib Rowing Club, Gráinne Mhaol Rowing club, Castleconnell Rowing Club, Cork Boat Club, Castletownbere Rowing Club, Coláiste na Coiribe Rowing Club, Galway Bay Sailing Club, NUIG Sailing Club, Galway Sea Scouts, Bray Sailing Club, Galway Civil Defence and Galway Sub Aqua Club, Bellacragher Boat Club, Lough Derg Yacht Club, Corrib Yacht and Boating Club, Carna Order of Malta, Dun Laoghaire Sailability, Gartan & Donegal CoCo, Galway City Council and the many other volunteers and helpers.
The Games were hosted by the Commercial Boat Club, Woodquay and Corrib Navigation Trust with competitive sailing hosted at Galway Docks.
(Top photo: David Branigan/ Oceansport)
Registered in the Republic of Ireland. Registered No. 81187