Turkish Baths, bad backs and hot stuff in the Aegean
15 July 2018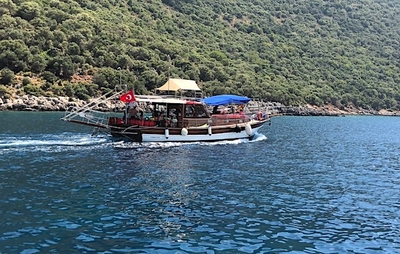 With the works finished, we bought a new "Zar" dinghy with aluminuim floor before we left Gocek, the old "AB" dinghy came from Safari of Howth and had been half way around the world with Ken and Carmel Kavanagh and we had towed it all over the mediterannean, the only damage was from the sun to the hypalon tubes, the Zar is another high end dinghy made in Germany and is lighter for lifting up on our new davits, if it lasts as good as the AB we'll be happy. The first thing I did was transfer the grapnel anchor and forty meters of anchor line to the new dinghy, and had a new sun cover made. I had a bad experience two years ago rowing ashore without the engine fitted to take Alfie to relieve himself, the wind came up fierce as we returned to DeDanann and blew us out to sea, with no anchor to hold ourselves, I eventually made it back to DeDanann completely exhausted, lesson learned!
Gocek is a busy town with six marinas and two thousand boats, the marinas are both high end and run of the mill depending on what you are prepared to pay, there is plenty of room to anchor in less than ten meters in the very well sheltered bay, unlike Croatia, there is no charge for anchoring in Turkey.
The many restaurants and tavernas are struggling, the huge gulets on the town quay that take trippers out also, things are improving very slowly since the coup of july 2016. Its a great time to cruise or holiday here in Turkey, they are very keen to do business, we don't see people getting ripped off anywhere, they look after their visitors very well and the exchange rate is fantastic on the euro, we have seen no security problems and we feel very safe rambling around the towns here, in fact, we hardly ever see any police or military about.
Our time in Gocek being up, we set sail in twenty knots of west wind to the very nice town of Fethiye some ten miles distant, thankfully the wind came down to about twelve knots as we moored up to the very posh Classic Yacht Hotel pontoon with the best of facilities set in a well sheltered bay close to the town. They charge €80 per night for DeDanann reduced to 80TL (€15) if one patronizes the restaurant, the food and service are excellent with really good local musicians and singers entertaining the clients most nights, needless to say, it was a no brainer and we dined well for the week that we stayed there. There is a great coastal walk and cycle track that we did early each morning, a ramble through the fish and fruit market, fresh orange juice and chaoi on the way back was the order of the day. Fethiye is a nice town to visit and spend some time.
Now! The Hamam (Turkish Bath) here in Fethiye is a really special event that I have to tell you about as I have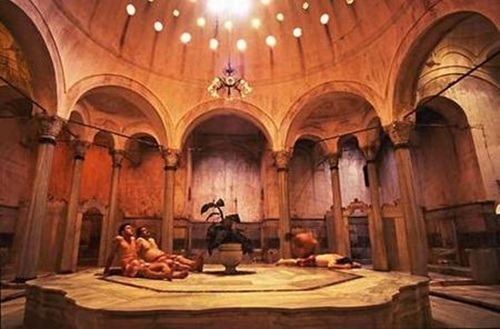 always wanted to visit one of these. My great, great, grandfather Olin first came to Dublin from Paris to build the Turkish Baths in Lincoln Place, behind Trinity College around 1840. It was a spectacular building with domes and a fine piece of architecture designd by an architect from Cork, sadly knocked down in 1978 to make way for a very ordinary office building.
Having made enquiries about the ancient Hamam here in Fethiye, Linda and I took ourselve off there for to try it out. Built by a sultan four hundred and fifty years ago and situated in the bazaar, two identical buildings attached, ladies on the right and gentlemen on the left, made up of small arch domed rooms one enters the reception area, you are given a gingham towel and flipflops, then asked to strip naked and come to the steam room where one sits around on a hot marble plinth for fifteen minutes to produce some sweat, a lot of sweat, the attendant comes dressed only in his towel and sliuces you with copious amounts of water in varying degrees of hot and cold from what resembles a dog bowel, you are then taken to a large raised central marble plinth and asked to lie face down, the towel is pulled away and he smoothers you in olive oil soap taken from a soap bowel onto a cheese cloth and rubbed over every inch of your body, he then messages the soap into your body before scrubbing you from head to toe with a loofe, the dead skin that comes away is alarming, you are then asked to sit up and sluiced again with hot then cold water before being led back out to reception clad in a fresh towell to cover your modesty, chaoi is then served as you relax for a while before going to the message room.
Nakedness is quite normal in these establishments, the only people wearing shorts are tourists, never ever the Turks, but there is nothing sleazy about how these people go about their business, they are professionals that serve their time to the art of washing and message. As for myself, I've never had a fondness to prance around naked, "I look a whole lot better dressed" I can assure you, it was simply the best wash that I've had since I was a little baby in my mothers auld Belfast sink.
After falling asleep relaxing after the Hamam, it was off to the message room, the same short, fat guy, with a good belly to match was the massuer, these guys, men of few words, don't do gentle, I believe myself, no pain - no gain, they climb up on the table and stand on you, rolling their elbows and fingers into every muscle in your back constantly telling you to relax, this goes on for nearly an hour, then quickly they disapear as you relax for fifteen minutes, looking up at the ancient domes with many portholes bringing the natural daylight into the room through coloured glass, reds, amber, blues and green has a very calming effect on the mind.
In anyway, it was a wonderful experience for both Linda and I, and is to be recommended if in this part of the world, the cost for over two hours of pure pleasure, a mere €40 each to include a gratuity for the attendant. We reluctantly left Fethiye to head south west along the coast to cold water creek some twenty miles distant, the wind was blowing a good fifteen knots as we sailed close hauled for some of the journey.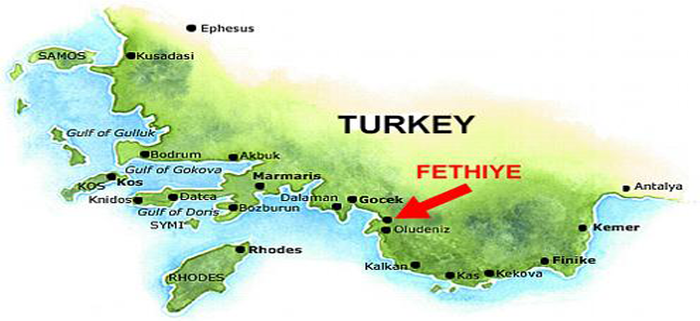 We came in from the sea and took a bouy belonging to the restaurant here in this well sheltered creek, there were not many boats about and we had a peaceful night, but it was too quite for our liking to stay any longer than one night.
The next morning early we headed down to the port of Kalkan some twenty five miles distant, we got in and tied up before the wind came up in the late morning blowing from the south west which would have been on the nose all the way down.
Kalkan is a very busy port with many gulets and tripper boats, it was up to only a few years ago, a small fishing port, but it is now a popular tourist destination and very, very, British, they even have sterling prices on everything, pictures and ornaments of the recent wedding of the young prince on display in the shops and restaurants. There are some fine restaurants and bars open late into the night around the port, prices are inflated mind, but it was nice to see all the same. The cost to tie up on the town quay to include water and electricity €15 per night.
As we left Kalkan our anchor crossed with the anchor of a gulet on the opposite wall, as I was bending over the rail trying to undo them, I pulled the muscles in my lower back as I took the weight of their anchor for a moment, it was like a stanley blade was run across my waist as I hobbled back to the helm cursing that anchor.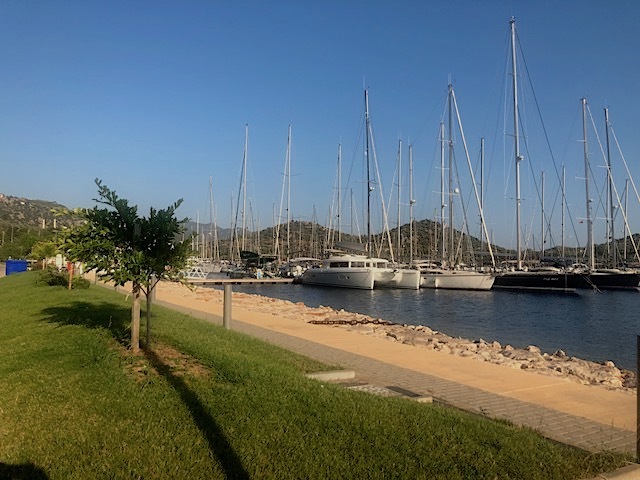 We set off, in anyway, for the marina in the port of Kas (Kash) the wind was light so we motor sailed all the way and took a berth in the very fancy Setur Marina Kas @ €65 per night. This marina has some very good facilities including a really nice beach club with luxury sun beds, sun shades, a cocktail bar and very good food, the cost €8 to enter and you square your food and drinks bill before leaving, it was great value and a pleasant way to while away the hours.
The marina is a fifteen minute walk to the town centre and port, it too has become a tourist resort and the space on the town quay is completley taken up with the gulets that bring the tourists on day trips to the various anchorages along the coast. Unlike Kalkan, the tourists are a mixed bunch from all over. We hung around here for several days, nice walks, beach club, hamam and good restaurants, we were in no hurry to leave and the weather had cooled down a bit which was a welcome treat.
Our next port of call was a large inland sea area called Kakova Rhodes, one comes in from the Aegean between some Islands through a narrow passage to a really well sheltered bay area that has several restraurants with their own pontoons that have water and electricity available, or one can go to anchor in very nice surroundings of olive and pine clad mountains, the water looks turquoise in colour but it is in fact, quite dirty, as a result of the hundred or so gulets that are moored there discharging their black tanks at night time, there is no pump out facility there and the gulets hardly ever leave the cove. A gulet with fifty tourist on board eating and drinking all day, everyday, produces a lot of black water.
The Turks have very strict laws in place for discharging waste anywhere in their waters, I can tell you now from experience, that the gulets constantly dump their waste at sea and seem to get away with it whilst cruisers are fined heavily if caught. Pump out stations are far and few to be seen and very often not working.
The presidential elections have just concluded and president Erdogan has declared a victory. Most Turkish people that we were talking to along the coastal towns were not voting Erdogan, they were cock sure he would not get in, but there you are.
We had planned to spend more time here in Kakova, but there is not much to do outside of going ashore to eat in the restaurants, or swimming off the boat, its just so hot!! 40c plus, there are no walks as it is all climbing of the high mountains as soon as you come ashore. We have no agenda as such this year and at the time of writing we are thinking about where to head next, maybe Cypress, but to be honest, the Greek Islands of the Dodecanese are beckoning.
DeDanann Out: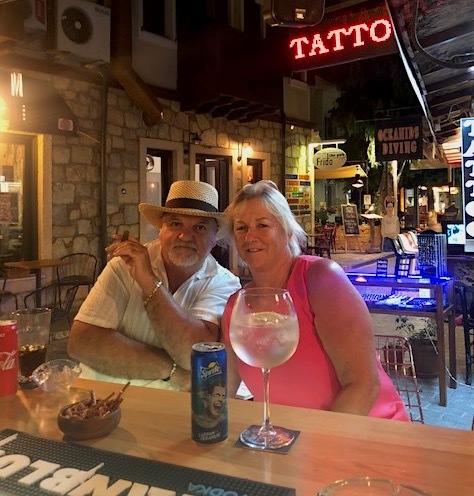 Registered in the Republic of Ireland. Registered No. 81187