Leinster Laser Championships return to Howth
09 July 2018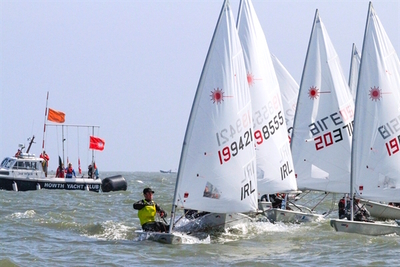 The Irish Laser Class returns to Howth for an open event after a long absence. HYC are delighted to be hosting this 2 day event which kicks off on Saturday 21stJuly. This promises to be a great weekend and is a just reward for our local sailors.
For the almost 40 sailors competing in our Frostbite Series it will be a welcome change to enjoy some Howth racing in warm conditions! Race management will be of the usual high standard with PRO David Lovegrove and team in charge. The race area is second to none, with a short sail to the race track between Irelands Eye and Lambay Island which typically offers perfect downwind wave conditions for the Laser and fair winds across the course.
Although the competition will be of the highest calibre, Howth boasts several very talented contenders, some of whom should feature on the leader boards so watch out for Crawford, Hopkins, McEvoy, McMahon, and Wallace. Of note are Ewan McMahon in the Standard Rig and Aoife Hopkins in the Radial rig. Both are aspiring Olympic candidates and this event is a great warm up before the World Championships in Aarhus, Demark in August.
As this is one of the last championship events for the Masters sailors before the World Championships in Dun Laoghaire, competition for the coveted 'first master' will be fierce. As some places are still available for the World Championships, and the entry deadline for the event is August 1st, this event may also be a final chance for Irish Laser Masters to qualify for the big event in early September. Given the number of Masters sailors in Howth, this could be a prime opportunity to get a late place. There may not be another Laser Masters Worlds in Ireland for 20 years!
Shortly after racing there will be a BBQ to help refuel competitors and give everyone time to catch up and recall the events of the day.
The event has several sponsors which will ensure some great prizes and après sailing. So a much appreciated thank you goes to BKS - Brendan O'Brien, CH Marine, CraftInsure, Investwise – Dave Quinn and MDM – Jim and Tom McMahon for supporting this event.
Early entry cost is €50 and is available until midnight on 13thJuly. Full entry cost of €75 will then apply until 2100 hours on 18thJuly and the online entry will close. Registration will be available at the event on Friday night and Saturday morning. Online entry and all relevant documents can be found at www.laser-ireland.com
Hope to see you there.
Des Flood
Event Organiser
Registered in the Republic of Ireland. Registered No. 81187