Keelboat crew coaching for individuals at HYC
20 June 2018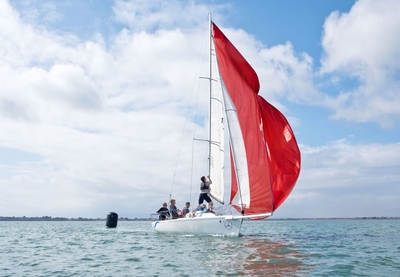 Our new sailing school 'Quest Howth' is offering expert tuition for individual racing crew members that are looking to improve their own racing performance through headsail and mainsail sail set-up along with trimming tips and improved spinnaker handling. The courses will be run on each of four consecutive Fridays with the first starting on 29th June from 18:30 -21:30.
These courses offer club sailors an ideal chance to learn how to make a boat more competitive, how to increase your contribution to the racing team and perhaps affording the opportunity to move on to a more competitive boat. HYC's team of fully qualified ISA keelboat instructors will facilitate the coaching and all courses utilise the J/80 and J/24 keelboats.
If you would like to start learning about keelboat race-crewing or want to improve your all-round sail trimming and spinnaker handling skills - this is the course for you. Adding to the already busy activities on Fridays in the club, the courses finish at 21:30 and we encourage candidates to share their experience with other sailors and friends in the clubhouse afterwards. The course fee is €50 per candidate per week and people can chose to do as many of the 4 Fridays as they would like. We would naturally encourage people to enroll and join one of the first sessions so that they have the chance to benefit from more if they want to progress quickly.
Specify symmetric/ asymmetric courses or just let us know what kind of boats you like to race and contact Jeannie at Quest Howth on 01 8320602, ask any of the Quest Howth team at HYC and check it out on www.questhowth.ie
Registered in the Republic of Ireland. Registered No. 81187