Fingal Series continues with Howth-Drogheda Race
06 June 2018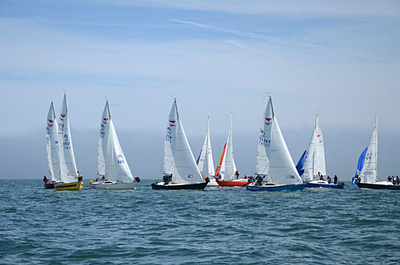 The next Fingal Series race will be on the 16th June with the Howth to Drogheda Race and featuring an East Pier start at 9am - all classes start together. Entry fee is included in the €20 for Fingal Series and if taking part, boat owners/ skippers need to notify both Fergal Noonan (fergal.noonan@nx2.ie) and Pat Murphy (patandolivia@hotmail.com) with boat size and number crew. Berthing and party in Drogheda Maritime Festival all included. See event website for full details: www.maritimefestival.ie and below press release:
In conjunction with the Irish Maritime Festival and Drogheda Port Company, Howth Yacht Club is delighted to announce the revival of a once traditional race for cruiser classes to the Boyne. The race will happen on Saturday June 16th 2018.
'The Howth to Drogheda Yacht Challenge' is a race for cruiser-racing and non-spinnaker classes and is a performance handicap race. The race commences in Howth on Saturday 16th June at 9am, finishing at the mouth of the Boyne in the early afternoon between 12 and 1pm (subject to weather). The winner of the challenge will be presented with the Drogheda Port perpetual 'Howth to Drogheda Yacht Challenge' trophy.
In addition, IMF 2018 will have an invitation race for both Skerries Sailing Club and Carlingford Lough Yacht Club also on Saturday 16th June. The river Boyne's dedicated yacht mooring 'Fiddle Case Pier' looks forward to welcoming both returning and new yachts over the weekend.
After that, Fingal Series continues with three more races, entry required separately for each:
Malahide Regatta 14th July
Howth to Skerries 28 July
Gibney Classic 4 August
Registered in the Republic of Ireland. Registered No. 81187