Fun Fridays continue this week
06 June 2018
So what is Fun Sailing Friday all about? Howth Yacht Club are running this throughout the summer every Friday (with a few exceptions due to regattas). The plan is to deliver a programme of fun activities to attract the junior and senior dinghy sailing section to enjoy the club facilities. To provide activities that are an attractive alternative to racing. To provide an opportunity for parents to get involved and enjoy some social aspects of the programme and to attract new members to Howth yacht club as a fun place to be involved in.
So this Friday and all Fridays we have 'Free Sailing':
Free sailing evening – 18:00 to 20:30
Sail with a friend, member or non member
Sail with confidence that rescue is on hand
Sail a laid course or just free sail as you desire
Please register for Friday by Thursday evening here
We are also running an introduction to keelboat sailing on the J80's – open to children and adults –
please register here
Later in the season....we have teamed up with Pure Magic from Clontarf to run an introduction to stand up paddle boarding in our own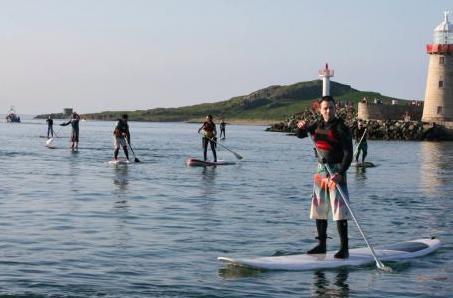 harbour. This will be a popular event so please book your place early to avoid disappointment.
We have a treasure hunt trip on Ireland's Eye in association with the cub scouts. This will also include 'smores' cooked on the beach fire under the control of the scouts. Don't know what 'smores' are –
please register here in order to find out!
The club have made the Picos available to members and you can bring a friend. You can take your own boat out too.
The first two evenings have been a great success – its open to all ages so book by Thursday for this or any Friday and come and join the fun.
Registered in the Republic of Ireland. Registered No. 81187