ICRA Championships attracts large HYC contingent
12 June 2014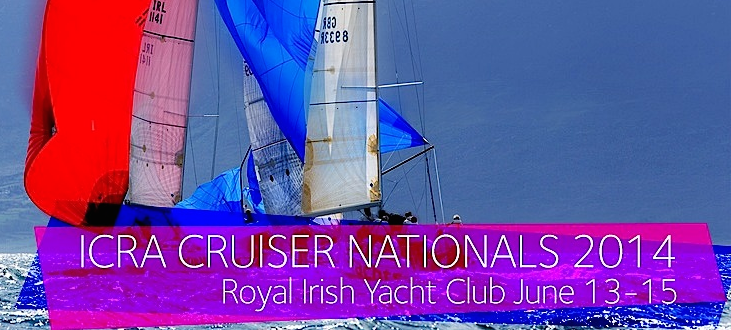 The 2014 National Championships for Cruiser Racers hosted by ICRA is being held in the Royal Irish Yacht Club. The host club occupies a ring-side location in Dun Laoghaire harbour and has had a long association with cruiser racing where it dry sails its racer cruisers, but I'll leave it to our historian, WM Nixon to fill you in the history. The ring for this weekend will be Dublin Bay where winds seldom obey the laws of physics and the racing mark names are never predictable.
Howth Yacht Club is sending a strong fleet to do battle. In Class 2, there are three X-302s (Dux 0.929; Maximus 0.925 & Solgari Viking 0.923); half-tonners by two (King1 0.953 and The Big Picture 0.942); and Corby 25 by two (Impetuous 0.930 & Fusion 0.935)
Class 2 is made up of fleets within fleets: there are tribes of Corby 25s, gangs of half-tonners, bunches of Beneteau 31'7s, tridents of X302s/ ¾ tons/ , pairs of J 80s and the etc includes a big Elan 333.
The opposition includes:
Checkmate (Half-ton bad-boy 0.943 RSgYC) –even money!
GBSC Corby 25s Tribal 0.929 & Smile 0.929
Alpaca3 (Corby 25 0.931 RCYC)
Slack Alice (GK34 0.949 WHSC)
Red Rhum Dehler (DB1 0.967 RStGYC)
Movistar Bleu (Elan 333, 0.967 Killyleagh YC)
Jester (J 80 0.957 NYC) & Graduate (J80 0.952 RIYC)
Utopia (X ¾ Ton 0.956)
Bunch of 4 Benny 31.7's on 0.950 or 0.952 if they bothered to get an IRC
Here's how it works: you start the race thinking you can win; by the time the fleet has stretched out at the windward mark, you look around and there're certain boats on the lead (that you wouldn't need to be Paddy Power to guess). You then say to the crew 'at least we are near the top of the 'insert your own boat class' fleet; and you race on hoping to maintain or improve that position – am I wrong?
Dux (by name and practice) the enigmatic X-302, may be helmed by former HYC commodore, Anthony Gore-Grimes. Feeling confident that years of practice and the recent RIYC regatta wins in class 2 are due to pay dividends, is the non-stop X-302, Maximus, with Paddy Kyne and crew. Solgari Viking (X-302 Patterson/ Darmody) are betting on an injection of wisdom and charisma in the ranks to make an impact.
However, there's a 'whole nother' gang within class 2 - the Star Wars fleet of heavily modified half ton racers from the '70s and '80s of which two powerful vessels will represent HYC. These yachts have had everything optimised over their original configuration by designers such as Mills or Corby: new lead parallel keels; taller rigs flying masthead kites; swept back rigs with spreaders and optimised sail-plans. Dave Cullen's warhorse King One rarely makes a mistake. Pretender to the half-ton throne is Big Picture ( Evans Bros & Peter Freyne) but the real shocker is that the dark prince called Harmony (J.Swan & Jim Freyne) haven't entered, yet!
All are pitted against the ever-winning, down-right perfect sailing, friendly, polite, smiling, pain in the pole tricked-out Half-tonner, Checkmate who just appears year after year and give everyone a lesson in yacht racing.
Other classes with HYC entries include Classes 0, 1, 3 and White-sails.
Class 0 has just Crazy Horse from HYC with ICRA President, the ever-positive Nobby Reilly determined to win if the Mills 36 makes it back in the water in time for the first race.
HYC is represented in Class 1 by Storm (Pat Kelly) and Flashback (Don Breen/ Paddy Gregory), the latter heating up their crew from a state of cryogenics for the Lambay race.
Class 3 is another cauldron of fun. HYC entrants include Alliance II (Laser 28) campaigned by Vince Gaffney; Don Giovanni – the Italian designer mini-tonner owned by Cillian Macken; the HYC EuroCarParks J24 team (all crew under 25) and Challenger (who have been putting in good club results recently). The wolves in the fleet are the no-expense-spared Quarter Tonners and the no-nonsense J24s.
Non-spinnaker includes Indulgence (Elan 333) and Brazen Hussy (Dufour 34)
Enjoy the weekend!
Kevin Darmody
Registered in the Republic of Ireland. Registered No. 81187