Wave Regatta marks 10-day countdown with release of event information
23 May 2018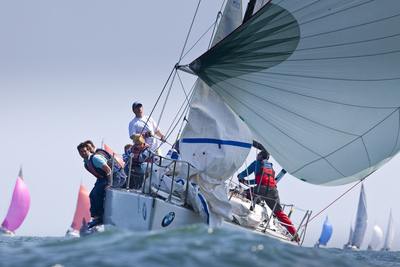 HYC has released key event information ahead of the inaugural Wave Regatta on the June Bank-holiday weekend with just ten days remaining before racing gets underway. Crews have the option of competing over three-days or just the classic Lambay Race on Saturday 2nd June. The overall entry currently stands at 125 boats with late entries expected to take the number higher. The entry deadline expires on Wednesday 23rd May but the organising committee has opted to waive the €50 late entry fee for inaugural event for entries received no later than Wednesday 30th May.
Official documents including the handicap class bands, Sailing Instructions as well as the extensive social programme staged by event sponsor Michael JF Wright Hospitality are all available for download on the event website
WaveRegatta.com
"We very pleased with the response to our Wave Regatta initiative and we're set to be the biggest keelboat event on the East Coast in 2018," commented Brian Turvey, Event Chairman. "Around 50 boats are visiting from outside Howth and they can be assured of a memorable experience, on and off the water."
The
class band split
means that at least 20 boats are expected each for classes one, two and three where some of the most competitive club boats will be racing. Andrew Algeo's Juggernaut from the Royal Irish YC leads a clutch of J109's into division one as the newly crowned class champion but faces plenty of competition under IRC, not least from Paul O'Higgins JPK1080.
In Division 2, Nigel Biggs Checkmate XVIII racing under the HYC burgee will face plenty of local talent, especially from Ross McDonald's Equinox and Michael and Richard Evans on The Big Picture. Three big boats entered in Division 0 create an interesting regional duel as Jamie McWilliam's Signal 8 from the Royal Hong Kong YC faces Conor Phelan's Jump Juice from the Royal Cork YC and George Sisk's WOW! from the Royal Irish YC.
Ashore, something for almost every musical taste and culinary palette will be on offer over the three days as Howth Yacht Club is transformed into an event site featuring a performance stage, casual food stalls, tapas bar options and semi-formal clubhouse dining. Amongst the eleven musical acts, the Camembert Quartet on Friday evening need little introduction to Late Late Show fans while Joe McCaul of EuroVision & X-Factor fronts the Good The Bad & The Funky early on Saturday followed later by DJ Vogue Williams. Sunday's finale features four bands including Howth local band The Guilty Party.
Registered in the Republic of Ireland. Registered No. 81187