49 entries finish inaugural Icebreaker Series
13 May 2018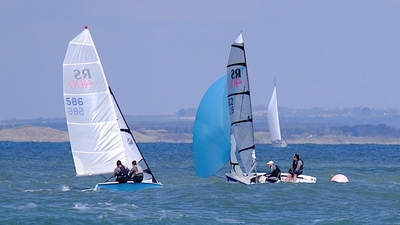 The inaugural Icebreaker dinghy series, hosted by HYC, finished up today in perfect sailing conditions with the added bonus of some glorious sunshine. With the exception of the first Sunday which was blown out, the event enjoyed 4 perfect weekends with some great racing. There were 49 entries across six dinghy fleets. The RS400, 420s, and Lasers competed under the Sundry fast division while Fevas and Toppers under Sundry slow. A large contingent of 25 oppies made up the last division.
It was great to see the club buzzing with over 60 dinghy sailors coming out to race each Sunday. In the eight race series, dinghies in the Sundry Fast and slow divisions competed for an overall prize under PY handicap while individual prizes for scratch results within each class were awarded for classes with more than 3 entries.
The racing was very tightly contested with many of the podium positions being decided on in the last race. In sundry fast it was interesting to see how well the PY handicap worked with 3 different classes featuring in the overall results. The overall winner in Sundry fast was Alan Ruigrok and crew in the RS400 from Rush Sailing Club with HYC's Dave Quinn, sailing a standard Laser, a very close second. Darach Dineen also in a laser was third and Liam Donnelly and crew sailing a 420 were 4th.
In Sundry slow, Abby Kinsella sailing a Topper from Sutton Dinghy Club was the overall winner scoring a very convincing 5 firsts and a second in the 8 race series. Christopher Evans and crew from HYC, sailing a Feva were second with Ruth and Alice Lacy, also flying the HYC flag in a Feva, scoring 3rd.
In the Optimist Fleet, James Anglim from Malahide Yacht Club topped the leader board with very consistent results. In second place was Una Connell from Skerries Sailing club, followed by HYC's Cillian Twomey in third and Des Turvey, also HYC in fourth.
A special mention to all the volunteers from HYC who make events like this a success, especially Sara Lacy Junior convenor, Stephen, Garret and William on PRO duties, Eamonn, Paul, Tom, Paddy, Mandy, Conor and all on the committee boat, Sineid, Dave and Kate, shore side, Jennie Harris for organising rescue, Brian McDowell and his team of volunteer rescue crews and Christine for getting the results out each week.
Finally a big shout out to all the sailors who competed and a special thanks to competitors in our neighbouring clubs like Skerries, Malahide, Sutton, Clontarf, Dun Laoghaire and Bray for making the journey.
Cormac Farrelly, event organiser
Registered in the Republic of Ireland. Registered No. 81187