Spring Warmers start brought forward by 30 mins this Saturday
15 April 2018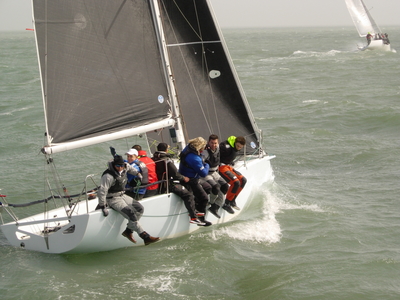 At Saturday's opening race of the Key Capital Private Spring Warmers, the weather conditions might have been a bit chilly for April, but the southerly 18 - 20 knots of wind along with the very overcast and foggy conditions restricted visibility but afforded crews with a real chance of some exhilarating racing. Two races were sailed by the 3 competing fleets with each race lasting approximately 45 minutes. The 3 keelboat fleets included some J80s, 1720s, SB20s and a pair of J24s.
The conditions were a good test for the boats' winter maintenance programmes, while the cold tested the stamina of the crews. Consistent results for the half-tonner 'The Big Picture' (2 second places) and the Corby 27 'Kodachi' (2 third places) see them at the top of the combined Class1/ Class2 division. Mike O'Connor's team on his SB20 'Sin Bin' continue to be dominant in that class, with 2 first places. An SB20 crew-member had the misfortune to fall overboard on one of the very fast downwind legs but was quickly recovered by one of the HYC RIBs with only his dignity injured. Just two J24s managed to launch in time and Steve Atkinson's 'Bad' won both races. See some of Neil Murphy's photos here
First gun this Saturday the 21st will be at 10.27 in the Key Capital Private Spring Warmers. A number of requests were made to bring the start forward to enable people to enjoy the sailing and attend the Leinster match. Of course the match will be shown in Howth Yacht Club after sailing. North Sails will again be out on the water and their excellent video footage will be available on-line afterwards.
Registered in the Republic of Ireland. Registered No. 81187