More options for competitors as Wave Regatta promises showcase event
10 April 2018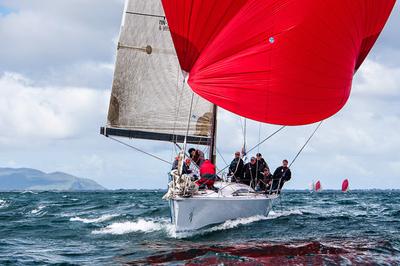 With additional racing included for some of the one-design keelboat classes on Friday night, this June's inaugural Wave Regatta continues to build on its expansive offering and is structured around three days of racing for the cruiser classes including the Lambay Races or just the classic coastal racing event as a standalone day. Online entry is available from WaveRegatta.com where reservations for the on-site campervan accommodation village and Dublin Bay Cruises ferry to Howth bookings are also linked. The event team have also confirmed that bigger boats drawing up to 3.5 metres will also be accommodated in Howth's inner harbour at all states of tide for the duration and either side of the event.
Conor Phelan's Jump Juice from the Royal Cork YC was one of the first big boat entries received. "We'll be returning from the Scottish Series and the Wave Regatta is timed perfectly for us to stop off for great racing at a great venue," he commented. On the opposite end of the spectrum, the Beneteau 211's will begin their weekend with a race across Dublin Bay on Friday evening, while ISORA (the Irish Sea Offshore Racing Association) has included the Wave Regatta in its programme of events for the 2018 season and is expected to draw a huge entry from Irish Sea clubs.
"We have many of Ireland's finest race management officials lined-up with David Lovegrove and Jack Roy on board as Principal Race Officers," commented David Cullen, Director of Racing. "These waters are renown as a high-quality racing ground and complimented by Michael Wright's hospitality schedule ashore, this will be one regatta not to miss!"
All competitors are promised an unforgettable shoreside entertainment programme. The extensive offering commences daily at 16:30 and includes 3 days and 3 nights of live entertainment from bands and celebrity DJs, as well as a new hospitality experience that will provide street-food stalls, a 20 metre-long bar on the forecourt which will be covered in stretch tents, stand-alone champagne and oyster bars and much more.
The inaugural Wave Regatta aims to deliver a unique experience to all its visitors while also showcasing the best that Howth and Howth Yacht Club has to offer. A daily ferry service from Dun Laoghaire is available for south-side commuters and the event will mark the fourth year of HYC's participation in the Sailors for the Sea international environmental initiative. As part of this subscription to 'Clean Regattas', every competitor will receive an event water container and a special drinking water dispenser will be installed on the forecourt on a permanent basis in an effort to eliminate single use plastic. Additional bicycle racking will be provided at the club and a major drive to eliminate the use of plastics, and reducing, reusing and recycling waste will be managed by the event's 'Green Team' led by Alistair Kissane.
With vital back-up by event teams from Irish Ferries, Carroll & McCauley, Knights Catering, Dublin Bay Cruises, Diageo, Heineken, Moet & Chandon, Iarnrod Eireann, the Department of Agriculture, Food and Marine, Viking Marine, Masts and Rigging, An Garda Siochana, Visit Howth, Sailors for the Sea and substantially funded by partnerships that include Fingal County Council, Michael JF Wright Hospitality, McPeake Auctioneers, Euro Car Parks, Elight, WD40 and Cassidy Travel, this unmissable inaugural Wave Regatta at Howth Yacht Club takes place over the June Bank-holiday weekend and skippers and crews now have until the end of April to enter and enjoy the early entry discount.
Full details including change to the Notice of Race, Online Entry and link to the event website are available here.
Registered in the Republic of Ireland. Registered No. 81187