Frostbites Spring Series concludes with the Round the Island Race
11 March 2018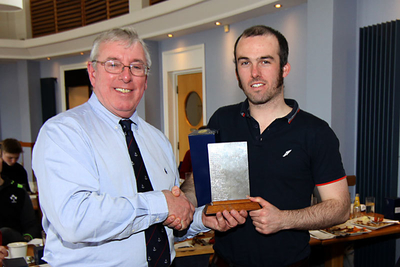 The annual Round Island race, to wrap up the winter and spring Laser series, was held on Saturday morning in cloudy, slightly foggy conditions, but with the all-important breeze maintaining an average of around 12 kts. Twenty three boats turned out for the two races with a few regulars absent due to being the proud possessors of Ireland v Scotland match tickets.
The first race, three windward leeward laps, was essentially a warmer upper for the Round Island race. The wind shifted left during the start sequence, luring the majority of the boats towards the pin end, but miracles do happen and the fleet got away without any extra hoots and flags. The mark layers were kept busy as the wind tracked further left during the race, moving marks at either end of the course to maintain the course true to the wind.
The feature Round Island race got off to a clean start with the tide against the line tempering the keenness of the starters. At the 'decision' mark, thirteen sailors opted for an anti-clockwise rounding of the island, including the leading five with the others opting for a clockwise rounding. The logic behind an anti-clockwise rounding was that it was better to be with the tide at the back of the island where the sea conditions could be more challenging. In any event, there was not much to choose between the options. Dan O'Connell managed to eke out a lead around the back of the island of several boat lengths, with Ewan McMahon, the best performer over the winter and spring series, relentlessly chasing him down. In the end, in a 700m upwind leg against the tide up the sound to the line, Dan won the race by half a boat length in a thrilling finish. The racing was followed by the annual lunch, prize-giving and an Irish rugby victory. Some traditions must be maintained!
Thanks to all the sailors, race committee, rescue and mark layers for keeping the longest running Laser series in the world going for another year. A temporary farewell to all the sailors from all around Ireland who took part in this series. We look forward to seeing you all again next season. Tell your friends all about what a great series we have here in Howth and we will make it even bigger and better again next year.
Report by Richard Kissane
(Top photo: Vice Commodore Ian Byrne presents the Frostbites Spring Series trophy to Ronan Wallace)
See all prize-giving photos here
Registered in the Republic of Ireland. Registered No. 81187