Refine your keelboat racing skills in time for the upcoming season
12 March 2018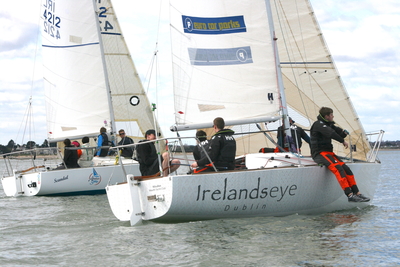 The club is organising a 'keelboat training weekend' on 24th & 25th March, for HYC Members and J24 Class sailors. Designed to suit racing sailors of all ages and abilities, this is a great opportunity to sail and train with the club's experienced youth sailors and coaches Cillian Dickson, Gordon Stirling and Sam O'Byrne. Whilst the training will take place in J24s, anybody who regularly races in any type of keelboat and is interested in advancing skills before the coming season is welcome to come along. The training sessions will provide a limited amount of places to ensure a high quality of training, so apply quickly if you want to take part.
The coaching topics for the weekend will be:
Boat setup
Sail Trim
Boat Handling
Improvement goals and self-coaching tips
The cost of the course is excellent value at €20 per person. The course fee includes homemade soup and rolls for lunch each day. HYC would like to acknowledge the support of ICRA and the Irish J24 Class Association in running this course.
Places can be reserved by e-mailing Brian McDowell at [email protected]
Registered in the Republic of Ireland. Registered No. 81187