Frostbite sailors overcome the big chill
04 March 2018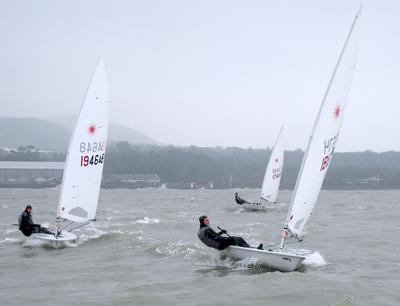 Thirteen Laser sailors, all with 'Standard' rigs, took to the water for the last day of the 2018 Laser Frostbite Spring Series. The challenges of the swell, built up in the Sound by the week-long easterly wind, together with the chilly temperatures and the occasional sleet showers were no deterrent to those hardened by their weekly outings since last November. The most demanding conditions of the entire two series were saved for the last two days, today producing by far the biggest waves.
Despite the 1.5m metre swell and the wind blowing 15 to 20 knots from 090, the first attempted start resulted in a General Recall. A subsequent display of the U flag for the restart led to more caution and the fleet was quickly split between those willing to tackle the bigger waves towards the centre of the Sound and those preferring the inshore route with flatter water but less tide to help them towards the windward mark. By the first mark, the leading three had established a gap and Ronan Wallace was out in front - again. Over the three laps of the triangular course he maintained his lead while those behind swapped positions, with swimming aplenty, of varying degrees of spectacle, but no-one lingering in the water too long. The rescue cover stayed in close attendance but did not have to assist any of these experienced sailors. At the finish, the order was: Ronan Wallace, David Quinn and Darach Dineen. All but one of the thirteeen starters finished, a great credit to the skill of the sailors who decided to race. By the finish of the first race the wind was increasing and the ebb tide was strengthening, making the conditions even more challenging for the sailors and Race Committee. The scheduled second race was abandoned and the fleet sent ashore, bringing the Spring Series to an end.
Ronan Wallace's win was his 6th of the 15 race series and, with 7 of his other results being 2nds, he was able to discard a 2nd place to win by a 33 point margin from the runner up, Darach Dinneen (RIYC), with David Quinn (HYC) in 3rd place. T Fox of Rush SC won the Radial series and Dylan McEvoy of HYC was the overall winner in the 4.7 rigs. Next Saturday, March 10th, is the Annual Round the Island Laser event. First gun will be at 10.25am and it will be followed by the Laser lunch and prize giving with the Ireland Scotland rugby international to round off the afternoon. The match will be shown live on a number of screens in the HYC bar.
See Neil Murphy's photos from today and the entire series here
Registered in the Republic of Ireland. Registered No. 81187