Ronan Wallace takes 2 comfortable wins in Laser Frostbites
18 February 2018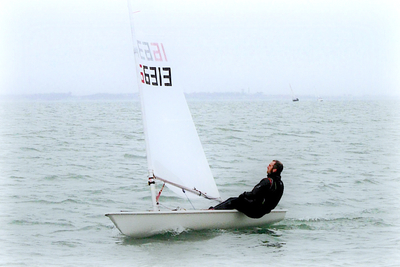 A 'Laser horizon job' - if there was a horizon to be seen this Sunday and Ronan Wallace took full advantage of some of his main rivals being missing to take two comfortable victories in the Laser Frostbites Series and moved himself into a comfortable overall lead with just 2 Sundays left. Despite the forecast for reasonably mellow weather, the cold, mist, low lying cloud and occasional rain showed that it is a bit early yet to put away the thermals. The 12-14 knot breeze was what interested the sailors most and the 17 boat fleet enjoyed two full length races.
Ronan Wallace got in front early in both races and stretched his lead away, while Darach Dinneen fought his way to the front of the trailing pack to take the two runner-up positions in the races. Robert Eason emerged from winter hibernation and, in his first outings of 2018, bagged a 3rd and a 4th place. In the Radials, T Fox of Rush SC took a win in the first race but lead the fleet home in the second to discover with disappointment that he was the only one who infringed on the U-Flag start. Nonetheless he retains his overall series lead. In the 4.7s, James Delaney and Dylan McEvoy each took a win and Dylan holds first overall by a four point margin.
Top photo is Ronan Wallace, who won both races today and is overall leader and in pole position to win the series.
Registered in the Republic of Ireland. Registered No. 81187