Black flag spoils clean sweep at Frostbites
05 February 2018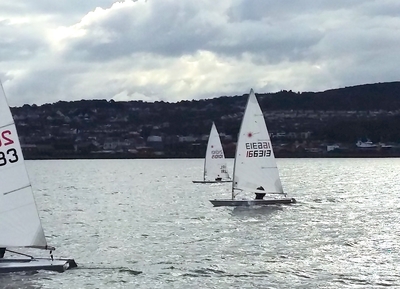 With last Sunday having provided the windiest sailable day of the Laser Frostbite series to date, Feb 4th initially looked like it was going to set the rainfall record. Despite the early morning torrents, 20 boats took to the water in dry conditions, the sailors' focus having turned to the wind forecasts and the range of options from the various websites - somewhere between northwest and east and 7 to 20 knots.
The Race Committee signalled a Windward Leeward course, the first sailed in 2018, and the sailors looked on while the marklayers earned their keep moving marks left and right to follow the wind. It settled enough to get a start sequence underway on schedule, only for the sailors enthusiasm to get the better of their discretion. Despite the flooding tide keeping them back from the line, the collective decided to go for glory ten seconds earlier than the clock permitted and a general recall resulted. The black flag was resorted to and the fleet, or most of it, took the hint and got away cleanly. A close fought race ensued with Ewan McMahon and Ronan Wallace battling it out for the entire duration, only for Ewan to find that his apparent win was really a BFD, he having been the only one to try starting early a second time.
A 70 degree windshift to the east delayed the second race for a short time while the course was again relaid. The fleet started at the first attempt and the two leaders from Race 1 almost immediately hit the front again. Ewan established a bigger lead on this occasion and at the end was relieved to be acknowledged with a winner's sound signal, Ronan getting second. Dan O'Grady sailed a very consistent two races in the shifty breeze, finishing third on the water in both but getting promotion to second place in race 1 due to Ewan's BFD. T Fox took a double first in the Radial fleet while James Delaney and Dylan McEvoy each took a win in the 4.7s.
(Report and photo by Neil Murphy)
Top photo: Ewan McMahon and Ronan Wallace (166313) battle in out in Howth Sound
Registered in the Republic of Ireland. Registered No. 81187