Lasers revel in 20-30 knot westerlies
28 January 2018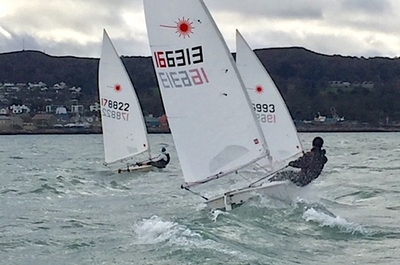 With less than an hour to the scheduled first gun at 10:45, as gusts of up to 30kts whistled through the marina, the hardy Laser frostbiters were displaying a degree of ambivalence as to whether racing would go ahead. However, the brave race management team, grateful for the relatively mild temperatures, headed out in Sea Wych and the sailors were game enough to follow them out. Windspeeds were mostly just over 20kts with gusts to 30kts from the west. The combined wisdom amongst the sailors was that as long as it wasn't 30kts at the gybe mark, conditions were just perfect! The course selection for the day was the new "3 triangles" format, specifically introduced to avoid dead downwind legs in strong conditions.
Race 1 was won by Ronan Cull whose ability to keep the boat flat in the conditions paid dividends. Darrach Dineen who has been sailing very well this year was a good second despite the fact the wind conditions made it almost impossible for him to have his usual quick smoke to settle his nerves during the starting sequence. There were a number of capsizes during the race but the sailors involved were quickly back in the saddle each time, relishing the challenge. Troy Hopkins was either blissfully unaware of the new course flag or just wanted to prove his metal. Either way he sailed the downwind leg on his own and survived.
Race 2 was an extremely close affair with Mike Evans tactical decision to go for the left hand side of the course resulting in him taking the lead. On the final lap, with Mike blasting down the reach towards the gybe mark, his moment of glory only minutes away, his bottom section failed, resulting in a spectacular nosedive. The race continued with a very exciting finish, Ronan Wallace being pipped by Paul McMahon at the line.
(Report: Richard Kissane)
Registered in the Republic of Ireland. Registered No. 81187