Becoming a Race Officer - a talk by David Lovegrove
21 January 2018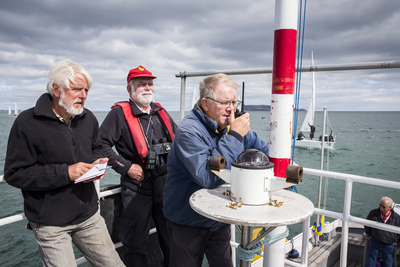 Former Commodore of Howth Yacht Club, former President of Irish Sailing and currently one of Ireland's four International Race Officers, David Lovegrove will present a talk on the pathway to becoming a race officer on Wednesday the 7th February in the club.
Howth's Puppeteer class sailor has been responsible for managing international championship-grade events as well as lots of local regattas throughout the years and has kindly agreed to impart his perspective on the rewards that participation in race management can offer the enthusiastic volunteer and outline the pathway to involvement in club, local, national and international events. Race Officers are usually sailors who serve on-the-water as the Race Officer (previously known as the Officer of the Day or OOD) and manage a race. The term 'Race Officer' refers to the person who leads the team running races. He or she is normally on the committee boat or in the start area ashore. The ISA has established four categories of Race Officer; National Race Officer (NRO), National Race Officer Emeritus NRO (E)*, Regional Race Officer (RRO) and Local Race Officer (LRO).
Race management can appear to be a daunting route and responsibility for any club member, but David will demonstrate how you can join HYC's tally of officials that are nationally and internationally renowned for their ability and candor.
David's talk is scheduled to commence at 8pm and it will be a valuable evening for anyone who has ever thought about being involved in race management. No tickets required, just come along on the night.
Registered in the Republic of Ireland. Registered No. 81187