Jamie and Ewan McMahon dominate first day of Frostbites
07 January 2018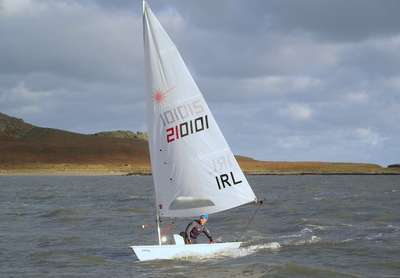 Brothers Ewan and Jamie McMahon rose to the occasion this weekend when they made an impressive start to HYC's 2018 racing season in the Laser Frostbite Series. Two races were completed, with Ewan taking a first place in the Standard fleet and Jamie winning twice in the Radial Class and remarkably finishing ahead of the entire fleet - Standard, Radial and 4.7 rigged boats - in the second.
An easterly breeze ranging from 14 to 18 knots and a flooding tide gave the fleet challenging conditions to contend with after their Christmas layoff. Those who had entered too heartily into the festivities found the conditions particularly demanding. The chilly air temperature and 7C water temperature quickly brought to an end the hope that maybe January would be milder than the conditions that the pre-Christmas series provided. Capsizes were plentiful but the ability to quickly right their boats was a skill that none of the sailors appeared to have lost during the holiday layoff.
The 20 boat fleet got underway without a recall in both races, either New Year's resolutions still being adhered to or the urgency of getting ahore to the hot showers tempering the temptation to push the start line. The Race Committee chose the less challenging course configuration of triangle, sausage, triangle for both races, keeping the more demanding Windward Leeward alternative for later in the Series.
In Race 1 Ewan McMahon, fresh from Winter training in Cadiz with the Irish Sailing squad, took first place in the Standard Rig fleet while Jamie, although not far behind his older brother on the water, took first in the Radials. In Race 2, Jamie showed just how effective the smaller Radial sail can be in the right hands when he had a winning margin of 30+ seconds over the next boat to finish, sailed by Dan O'Grady, who took first place for the Standard rigs. Dylan McEvoy and James Delaney each took a first place in the 4.7 Class. Racing continues every Sunday morning, first gun 10.45, until March 4th, two races per day.
(Top photo: Ewan powers his way downwind in Howth Sound)
Registered in the Republic of Ireland. Registered No. 81187